Drawing-room elegance and earthy vigour exist side by side in the Elias's complete Beethoven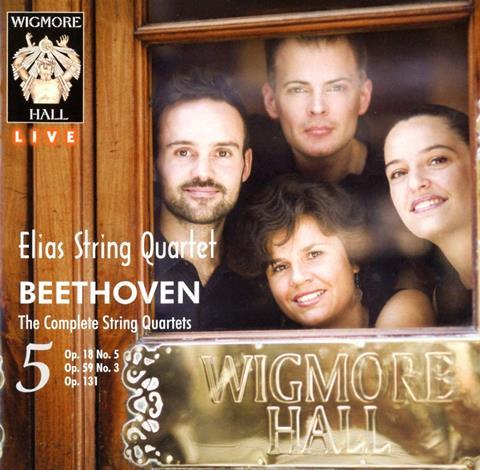 The Strad Issue: February 2019
Description: Unmissable penultimate release in the Elias's complete Beethoven
Musicians: Elias Quartet
Works: BEETHOVEN String quartets: in A major op.18 no.5, in C major op.59 no.3, in C sharp minor op.131
Catalogue Number: WIGMORE HALL LIVE WHLIVE0092/2 (2 CDs)
This is the fifth instalment of the Elias Quartet's complete Beethoven cycle, all recorded live at Wigmore Hall, London. In the A major Quartet op.18 no.5 drawing-room elegance and earthy vigour exist side by side. In the first movement the staccato phrases are dry and the notes well separated, and there are sudden dramatic changes of dynamic.
The menuetto is poised, but the sforzandos in the trio are punched out. The trio also changes gear a couple of times: well-judged rubato is a constant feature of this performance. Among the many colours and moods of the Andante the chorale-like Variation V has wonderful mystery and repose. High spirits abound in the vigorous finale. (The applause is kept in. Otherwise, the audience is mercifully silent.)
The first movement of the C major Quartet op.59 no.3 is generally light and mellifluous, but with passages of vivid muscularity and biting bow strokes, particularly from the leader Sara Bitlloch. In the Andante the care in phrase shaping, rubato and dynamics, which are so effective elsewhere, bring the performance to the cusp of mannerism. The final Allegro skips along splendidly.
The C sharp minor Quartet op.131 is often underpinned by a sense of dance. The opening fugue is anguished and passionate, with expressive vibrato and portamento from Bitlloch. The melodic contours of the following Allegro are beautifully shaped. The Presto has irresistible drive; the Adagio is one long sinuous line, as if sung in one breath. The recording is excellent.
TIM HOMFRAY