Bruce Hodges attended the recital at Lincoln Center's Rose Studio on 9 May 2019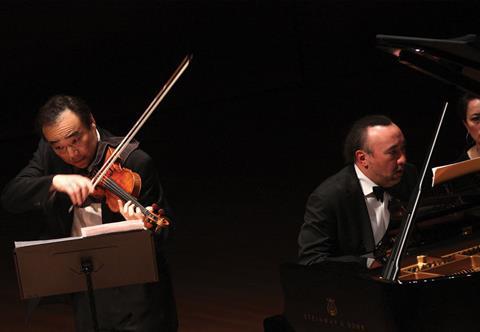 In an evening of 20th- and 21st-century works by American composers, under the auspices of the Chamber Music Society of Lincoln Center, Cho-Liang Lin (above right) and Jon Kimura Parker brought talent and imagination to a programme titled 'The Art of the Recital' (a parallel recording of the menu is in the works).
Broadcast live online from the intimate environment of the Rose Studio, the duo began with John Harbison's Sonata no.1 for Violin and Piano (2011), starting with rough and forceful double stops. The five movements range from a riotous rondo that charges like a bull, to the final 'Poscritto: Misterioso' that ends on a quietly chaste note.
Steven Stucky's Violin Sonata (2013) opens with an ascending melody and short bow strokes – just shy of spiccato – leading to a moody central movement. The ticklish finale, with Parker easily handling the piano barrages, also showed Lin's ability to navigate the thorniest thickets.
For the finale, Paul Schoenfield's Sonata for violin and piano (2008–9) made an entertaining choice. The first movement is packed with references to Beethoven, Liszt, Schoenberg, Webern, and American popular songs, which sped by in a dizzying blur. Two middle sections are calmer, even gently nostalgic, before the final 'Freilach' (Yiddish for 'happy') muscles in with klezmer run amok.
In between came Bernstein's Canon for Aaron (1970), a valentine to Copland, and Lukas Foss's 'Composer's Holiday' from Three American Pieces (1944) – with Lin channelling his country fiddler side in the latter. The Larghetto from Dvořák's Sonatina op.100 made a touching encore.