Superbly committed collection of all ten of Beethoven's violin sonatas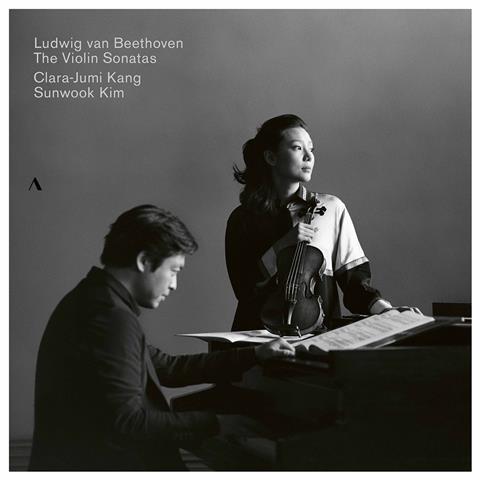 The Strad Issue: January 2022
Description: Superbly committed collection of all ten of Beethoven's violin sonatas
Musicians: Clara-Jumi Kang (violin) Sunwook Kim (piano)
Works: Beethoven: The Violin Sonatas
Catalogue number: ACCENTUS MUSIC ACC 80558 (4 CDs)
This set was recorded over the course of last year, prompted by Beethoven's 250th birthday before being held up by the pandemic. Clara-Jumi Kang's playing has constant poise, whether in the A major Sonata op.12 no.2 with its drawing-room elegance and high-spirits, or the slow movement of the F major 'Spring' Sonata with its Olympian beauty. She is as ready to caress as to attack, and there is much here which is delicate and meditative. In the E flat major Sonata op.12 no.3 there are flashes of ferocity in the first movement, but then the central A flat major section of the second-movement Adagio is a wonderful hushed legato, giving the illusion of an endless bow.
In the A minor Sonata op.23 there is drama in the first movement, with Kang's bow biting into the staccatos, and a pleasing antique formality to the following Andante scherzando. The first two movements of op.30 no.1 in A major are beautifully sculpted, and the third-movement variations are an elegant study in differing characters. By the C minor Sonata they have definitely left the drawing room, with muscular, dynamic playing from Kang preceding great depth of feeling to the Adagio. The G major opens with compelling narrative urgency and closes in the third-movement Allegro vivace with happy insouciance – her lightness of touch is rarely far away.
In the 'Kreutzer' Sonata she balances grandeur with gentleness and warmth, with some deceptive simplicity in the second-movement variations and a finale that is energetic but never heavy. That simplicity features again in the final G major Sonata with its long-spun meditative melodies.
Sunwook Kim, himself a noted Beethovenian, is superb throughout. The recording is clear and balanced with a touch of distance.
TIM HOMFRAY