Young cellist takes flight in youthful Russian works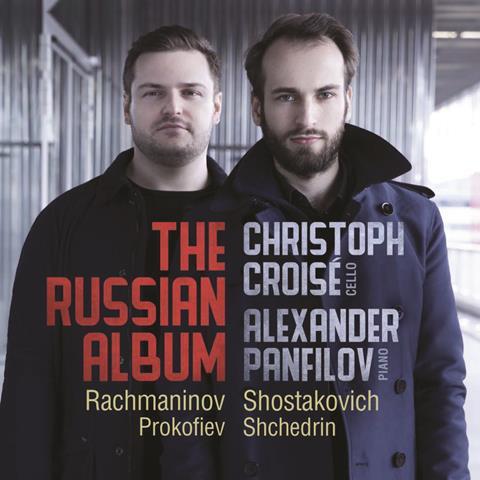 The Strad Issue: March 2020
Description: Young cellist takes flight in youthful Russian works
Musicians: Christoph Croisé (cello) Alexander Panfilov (piano)
Works:: Rachmaninoff: Cello Sonata in G minor op.19. Shostakovich: Cello Sonata in D minor op.40. Shchedrin (arr. Croisé): In the Style of Albéniz. Prokofiev: March from The Love for Three Oranges. Demenga: New York Honk
Catalogue Number: AVIE AV 2410
Swiss cellist Christoph Croisé, 27 this year, reminds us in his playing of this repertoire that these were largely the works of composers roughly his own age at the time of their writing. Rachmaninoff may temper his youthfulness with the premature greying of wistful nostalgia, but Croisé and his virtuosic keyboard partner Alexander Panfilov successfully tap the Cello Sonata's energy, and the cellist floats the big melodies with both urgency and subtlety.
The less full-bodied nature of Shostakovich's piano writing enables the composer to make more use of the cello's lower register, and given the chance, Croisé exploits his rich C string to the full, while also singing with almost vocal freedom in the upper reaches of his instrument. There's a conversational rapport between him and Panfilov, especially in the Sonata's more whimsical passages, but plenty of give and take in the moments of tenderness and fury, too, and as in all the playing on this disc everything is shot through with emotional truthfulness.
After a couple of Russian miniatures by Shchedrin and Prokofiev, both buoyantly played, the disc goes thematically off-piste with a humorous 'encore' by fellow Swiss cellist Thomas Demenga, evoking the mayhem of Manhattan's streets. The Swiss Radio-sourced recording is exemplary.
MATTHEW RYE