Performances of great immediacy, captured by a first-rate recording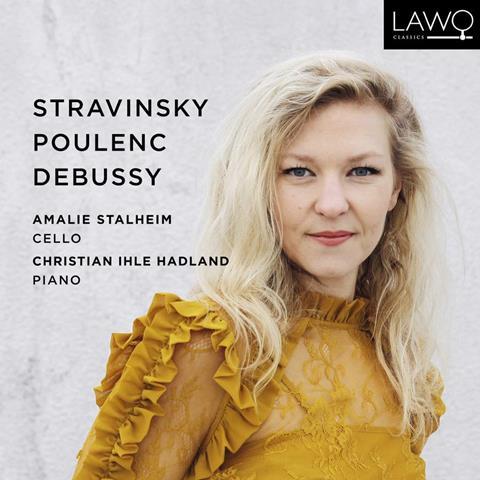 The Strad Issue: October 2023
Description: Performances of great immediacy, captured by a first-rate recording
Musicians: Amalie Stalheim (cello) Christian Ihle Hadland (piano)
Works: Debussy: Cello Sonata. Poulenc: Cello Sonata. Stravinsky: Suite italienne
Catalogue number: LAWO CLASSICS LWC1260
This Norwegian audiophile label makes some of the most dynamically broad and forensically detailed recordings on the market. You can almost hear the grain of the maple on Amalie Stalheim's 1687 Francesco Rugeri in her shaping of the artless melody in the slow movement of Poulenc's Cello Sonata, as well as every hair's breadth variation of her vibrato, and the supportive glow of pianist Christian Ihle Hadland's accompanying chords.
All the same, these are not aridly analytical performances. The finale of the Poulenc is like a mini-Godard movie, endlessly eventful and richly characterised by Stalheim at every madcap turn. This is not 'aristocratic' cello playing in the old sense embodied by Tortelier and Fournier; it is generous of tone and sentiment, reaching out in the opening movement of the Debussy towards a late coming to terms with mortality, through the kind of recitative phrasing on which any Mélisande would colour her lines.
The Suite italienne presents another challenge again (the album's contrasts make for a rewarding listen at a single sitting): how to respect the superficial Neoclassicism of Stravinsky's harmony while honouring the true emotions of his commedia dell'arte subjects? Stalheim's approach leans into the colouristic possibilities afforded by the recording and her pianist; her spiccato in the Serenata's reprise, the detaché of the Tarantella and the elegant cantabile of her Menuet all offer pleasure in their own right, and with an intimacy which a high-profile concerto could not emulate.
PETER QUANTRILL