Restless, gripping performances that both surprise and delight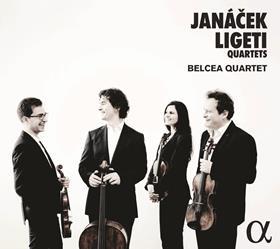 The Strad Issue: October 2019
Description: Restless, gripping performances that both surprise and delight
Musicians: Belcea Quartet
Works: JANÁČEK String Quartets: no.1 'The Kreutzer Sonata', no.2 'Intimate Letters' LIGETI String Quartet no.1 'Métamorphoses nocturnes'
Catalogue Number: ALPHA 454
If you like your Janáček suave, amusingly quirky, his rough edges rounded off with late Romantic finesse, this probably isn't the disc for you. In its gripping account of his two quartets, the Belcea Quartet takes him at his word with unforgivingly abrupt tempo changes, piquant textures and a heart-on-sleeve rawness, all carried off with utter conviction and impeccable technical expertise. The result is simply breathtaking – and feels like layers of varnish have been lovingly stripped from this idiosyncratic music.
There's a beguiling buoyancy to the Belcea's First Quartet, played with meticulous attention to all of Janáček's tricksy rhythms and articulations, frequent passages of elegance offset by jarring noise – in the viola and second violin's ponticello interjections in the third movement, for example, or the wheezing harmonium of the finale's opening chords. The players' 'Intimate Letters' feels filled with the immensity of emotion it requires, from its declamatory opening to the joyful abandon of its breathless finale, with another striking ponticello effect that seems to contain barely any pitch at all.
If anything, the group's Bartók-like Ligeti First Quartet is even stronger, and provides a playful counterpoint to Janáček's surging passions. The Belcea has the measure of Ligeti's offbeat, almost cubist structure, immersing itself thoroughly in his restlessly changing textures, and playing up his unashamed theatricality to compelling effect. It shines piercing new light on all three quartets, producing accounts that are often aurally surprising but entirely convincing, captured in close, warm sound.
DAVID KETTLE