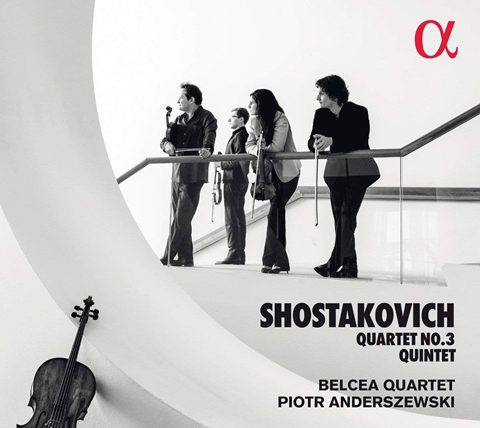 The Strad Issue: September 2018
Description: A non-Russian approach to Shostakovich that's in a class of its own
Musicians: Belcea Quartet, Piotr Anderszewski (piano)
Works: SHOSTAKOVICH String Quartet no.3, Piano Quintet
Catalogue Number: ALPHA 360
Everything about this album feels judiciously considered and lived-in. Non-Russian ensembles have tended either to emulate or to fall short of native ferocity and fervour in Shostakovich's music, yet the musicians of the Belcea Quartet take another, highly persuasive tack, akin to their tough and contained approach to the Viennese classics.
Try the Intermezzo of the Piano Quintet or the Passacaglia of the Third for examples of restraint which only serves to nurture the tension beneath the composer's post-Beethovenian approach to his chosen forms. In both cases the finale emerges (strutting in the Quintet, shyly and quizzically in the Quartet) smoothly and inevitably from their uneasily achieved peace.
Claustrophobia is kept at bay by a humanely balanced recording, setting back Anderszewski's piano to advantage, and by the Belcea's acute sense of timing, which always finds charm to counterbalance pathos. Just as the Quartet achieves a sublime, even Mahlerian point of rest, the Quintet ends with a shrug and a smile.
A controlled approach to vibrato complements rhythmic tautness even when the players lay it on thick in the scherzo movements, which also gain strength from an evident appreciation of their origins in Mahler's favoured, stamping Ländlers. Bigger, rougher, more apparently authentically 'Russian' accounts are not hard to find, but for a Shostakovich of our time, set in the context of his forebears, the Belcea players are without equal.
PETER QUANTRILL