Eloquent album that ought to shift this neglected music into the mainstream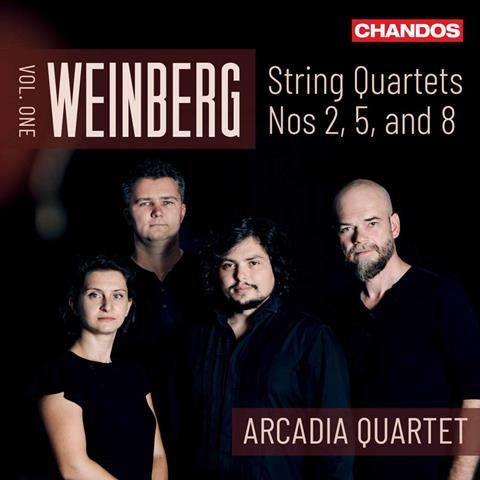 THE STRAD RECOMMENDS
The Strad Issue: March 2021
Description: Eloquent album that ought to shift this neglected music into the mainstream
Musicians: Arcadia Quartet
Works: Weinberg: String Quartets: no.2 in G major op.3/145, no.5 in B flat major op.27, no.8 in C major op.66
Catalogue number: CHANDOS CHAN 20158
The Arcadia Quartet is not the first ensemble to tackle the 17 quartets of Mieczysław Weinberg on disc (the Danel Quartet recorded them over a decade ago), but I am tempted to predict that this new venture, of which this is the first volume, could be the one that shifts this neglected music into the mainstream.
No.2, composed in 1939–40 and revised in 1989 (hence the double opus number), was still supposedly a student exercise, but one that in its maturity and quick-wittedness may well have inspired Shostakovich to resume his own exploration of the medium. No.5 (1945) sees Weinberg adopting a more serenade-like form – indeed its finale has that very title, while no.8 (1959) is a more compact single-movement structure lasting a mere 15 minutes.
From the cheery opening of the Second Quartet to the more rollercoaster emotional journey of the Eighth, this is music that speaks to one from a first hearing, and the Arcadia players, even more than their earlier rivals, convey complete identification with the idiom, from its fresh-faced charm to its poignant ironies.
These are living, breathing performances, even if made in the studio (the Potton Hall recording captures everything with warmth and clarity), and make one impatient for the next instalment.
MATTHEW RYE