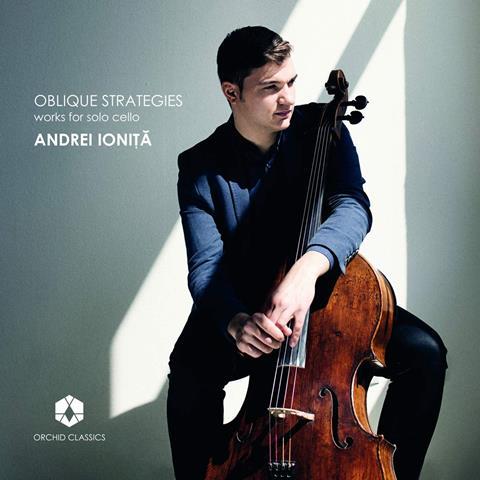 THE STRAD RECOMMENDS
The Strad Issue: June 2019
Description: Superb solo debut from a recent BBC New Generation Artist
Musicians:Andrei Ioniţă (cello)
Works: BACH Cello Suite no.1 in G major BWV1007; DEAN Eleven Oblique Strategies; KODÁLY Sonata for solo cello in B minor op.8; HENRYSON Black Run (from North American Suite)
Catalogue Number: ORCHID CLASSICS ORC100096
To open a debut solo album with Bach's Cello Suite no.1 may not be the obvious way to present oneself as a distinctive new musical voice. However right from the opening measures of this most famous of works, Romanian cellist Andrei Ioniţă's playing demands attention: the sinewy depth and richness of the tones he's drawing from his 1671 Rogeri, the fluid technique, the way his Prelude's architecture and musical argument is cleverly grown through subtle transformations of articulation and attack, and the fleet-fingered Courante's deft balancing of delicacy and danceability with a scurrying, capricious, almost untamed quality.
The album's title work, Brett Dean's ten-minute cycle of character pieces composed for the 2014 Grand Prix Emmanuel Feuermann of which Ioniţă was a prizewinner, is an equally ear-pricking interpretative and technical hole-in-one. Movement titles such as 'Listen to the quiet voice' and 'Disconnect from desire' ring true.
Then, having lured you in close for its final 'In a very large room, very quietly' with the eerie beauty of his whispered harmonics, the way his ensuing explosion into Kodaly's B minor Sonata makes you reel back again; before his power and lyricism over its sweeping lines swallow you in once more.
Svante Henryson's 2001 bluegrass-inspired Black Run then circles us back to dance for an ear-popping, toe-tapping virtuosic slalom ride of textures, tones, techniques and special effects all piled on top of each other, which Ioniţă handles so superbly and joyfully that you're left breathless and smiling yourself. Recorded sound is excellent. Rarely have I been so impressed on so many fronts by a debut recital album.
CHARLOTTE GARDNER