Peter Quantrill reports from the 25th anniversary of the Verbier Festival, where a wealth of A-list musicians rubbed shoulders with enthusiastic younger players from the Festival Academy and Orchestra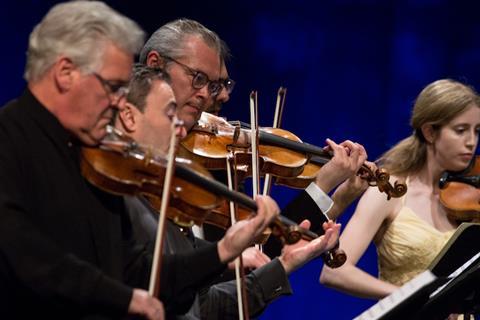 How do you listen to a Brandenburg No.3 featuring a first violin section of Pinchas Zukerman, Maxim Vengerov, Vadim Repin and Leonidas Kavakos? Do you simply sit there, mouth agape? Do you lean forward intently, straining every aural sinew to catch each gilded thread of Stradivari and 'del Gesù' sound? Do you laugh at the absurd opulence of it, as you might when presented with a salver of beluga and a glass of Krug in a chauffeur-driven Rolls?
All three options were in evidence among the patrons of the Verbier Festival at its 25th anniversary gala – many of whom seemed familiar with my caviar-and-champagne fantasy to judge from the bling on show and some preternaturally taut faces. Talking to me before this year's three-week festival kicked off on 19 July, its founder and director Martin T:Son Engstroem mused aloud on how to top its 20th-birthday triumph, involving the 24 Preludes of Chopin, each one played by a different pianist or arranged for a specific chamber group.
'For an event like this, everyone wants to be involved; they want to give me their ideas.' I suggest these 'ideas' mostly involve a 40-minute recital. 'Exactly! And that can't work. So I have to come up with a plan, and hopefully they will all agree to it. I can't tell you what it is yet, but' – self-deprecating understatement, this – 'I think it will be exciting.'
Verbier Festival Orchestra members take a 'work hard, play hard' attitude to judge from the number of them out at 2am, knocking back the local white wine
As a former record-company executive, Engstroem has a contacts list packed with bonafide talent on the books of the 'majors' – Deutsche Grammophon, Decca, Sony, Warner Music. On the night after the 25 July gala, the sweltering plastic box of the Salle des Combins was packed once more for Valery Gergiev leading a Mariinsky-cast concert presentation of Cilea's overblown piece of verismo fluff, Adriana Lecouvreur – the one with the box of poisoned flowers.
In fact, led by Tatiana Serjan in the title role, the cast was terrific – communicative even without the box or the flowers that shore up the plot. Gergiev, too, was on song, drawing playing of some refinement as well as wallop from the Verbier Festival Orchestra (VFO).
VFO members are young professionals, or would-be pros, chosen by video audition from an international longlist of 1,600 applicants. With an orchestral concert every three or four days, rehearsals, masterclasses, fringe events and late-night recitals, their schedule is a punishing one.
They take a 'work hard, play hard' attitude to judge from the number of them out at 2am, knocking back the local white wine. If the ambience is congenial, the tuition classy and the engendered collegiality unforgettable, considering the number of ex-VFO members who make an annual return. Stopping off for a potato rösti lunch after a morning hike (bring your walking boots!) I bumped into two of them, old friends, one now an artist manager, the other a record producer.
Verbier does more than further the ambition of a career playing with the likes of Vengerov and Zukerman. On the hairpin Alpine road up from Martigny I shared a taxi with Karen Zorn, president of the Longy School of Music in Boston. She was leading a course on 'Reaching Out', teaching the skills that young musicians need to ply their trade beyond actually playing their instruments: how to programme, to promote, to work within their local communities.
She observed that her task was considerably easier with the 20-something musicians of the VFO – 'who have taken a few knocks and are ready to learn' – than with the teenage participants on the Festival Academy programme, who are more inclined to see Verbier as a one-way ticket to glory.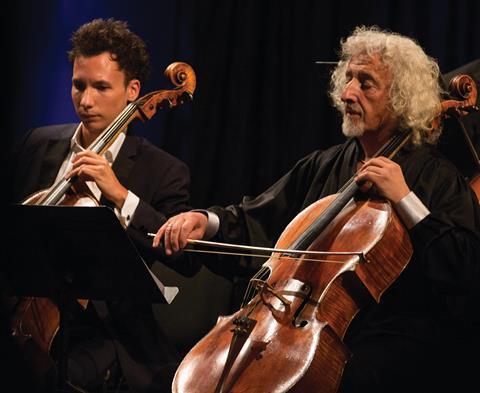 Back to that gala. Engstroem's answer to the rhetorical question he asked earlier was, in a nutshell, to invite everyone and get them playing together. Thus the birthday orchestra came to be, and its members all deserve a tip of the hat for cooling down their egos for a string focused first section of the concert.
Apart from that storied first-violin section in Brandenburg no.3, the second violin line was taken by Vilde Frang, Ilya Gringolts and Kristóf Baráti. On viola were Tabea Zimmermann, Nobuko Imai, Gérard Caussé and Blythe Teh Engstroem; the cello section constituted Mischa Maisky, Andrei Ioniţă and Edgar Moreau. Most of that august company was then corralled by Dmitry Sitkovetsky for a one-off arrangement of Sarasate's Navarra Fantasy, giving each of its 13 violinists their sautillé or saltando chance to shine.
The selection from Peter Heidrich's lame set of pastiche variations on Happy Birthday (hello Haydn, there goes Brahms) betrayed gala-concert syndrome (too many stars multiplied by not enough rehearsal equals diminishing returns) – and after a procession of pianists in the concert's second part, so did portions of the orchestral-focused part three – but the birthday orchestra soloists eventually returned to fill the back desks of the Festival Chamber Orchestra for Gergiev to lead them all in an Overture to Die Fledermaus that fizzed with the kind of sparkle only vintage performers can impart. The Festival's chamber venue is the Église. Hardly less oppressively hot in high summer than the Salle des Combins, it nonetheless tends to nurture more focused performances and more attentive audiences.
At a morning recital on 27 July I caught up with Repin – almost unrecognisable from the chubby wunderkind who beamed out from old Erato album covers – most deftly accompanied by Andrei Korobeinikov. Repin's Prokofiev Second Sonata exemplified a Verbier house style: glamorous tone held aloft by legato and largely untroubled by contemporary concerns with nervy shifts in vibrato.
Leopold Auer would have nodded in approval. The same muscular assurance brought armour plated security to Prokofiev's First Sonata performed by a recent Festival Academy graduate, Alexandra Conunova, on 20 July.
Despite the allusive and probing accompaniment afforded her by Denis Kozhukhin, I enjoyed the more vulnerable, even at times whimsical, partnership of Ioniţă (the 2015 Tchaikovsky Competition's cello division winner) with Seong-Jin Cho in Shostakovich's Cello Sonata on 25 July.
Ioniţă brought out a cosmopolitan breadth of reference in Shostakovich's cello writing, intelligently prefaced on this occasion by Cassadó, Beethoven and Schumann. Now here's a young musician who knows how to programme.