First published in the March 2014 issue to mark 25 years since the fall of the Berlin Wall, nine string players and makers from the East and West sides here reveal the stark contrast between life on either side of the divide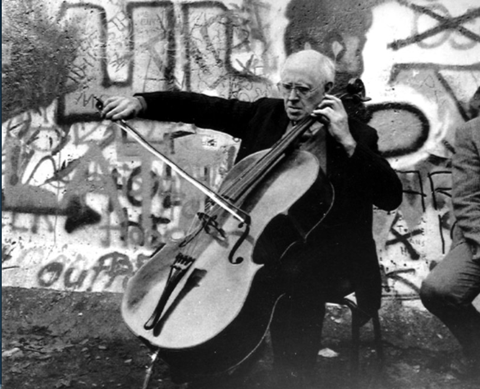 Mstislav Rostropovich giving an impromptu performance of Bach at Checkpoint Charlie, November 1989

ALBAN GERHARDT CELLIST
I GREW UP IN WEST BERLIN feeling very protected and sheltered. If we wanted to visit West Germany we had to travel two or three hours but we were very self-sufficient. West Berliners lived on an island, but an island that had everything. We had three symphony orchestras, an opera house and orchestra, lots of theatres, lakes and forests. I was so horrified by the regime in East Germany that I didn't think it would fall so easily. I was in the city when the Wall fell. I had come back from Cologne, where I studied, for a concert of new music at my former school. Nobody came to the concert and when I got home I found out the Wall was coming down. It felt like a dream come true. I couldn't believe it. In 1990 I won a competition and launched my career, but it took a while before I started playing in East Germany, because I was a West German artist and it didn't feel so easy to cross over initially. For a couple of years there was a certain hesitation. East German promoters would invite East German artists — at least that is what it felt like. East German musicians had their own approach, and you can still see this in the Leipzig and Dresden orchestras, which have very different identities from orchestras in the former West Germany. Or to go further, they have an identity. Free to travel, West German orchestras became a fantastic, globalised group of orchestras, but without special characteristics. However, the Leipzig Gewandhaus Orchestra still has a unique sound. INTERVIEW BY TIM WOODALL

JOACHIM ROEWER PRINCIPAL VIOLA, IRISH CHAMBER ORCHESTRA
I WAS BORN IN EAST GERMANY in Rostock, on the northern coast, and I went to study at the music college in Weimar. Classical music seemed to have quite a good support system in the country, with a number of East German symphony orchestras allowed to tour the West. So apart from the fact that I loved music, and would have studied it anyway, playing an instrument offered me the chance to see the world behind the Wall one day.
The morning after the Wall came down I had to go to Berlin, to audition for the Gustav Mahler Youth Orchestra. There was enormous excitement on the streets. My brother-in-law queued for seven hours for our visas, while I did my audition for the orchestra, which I passed. The reason we were so desperate to go to West Berlin so soon was that Daniel Barenboim had announced that the Berlin Philharmonic would perform a special concert only for East Germans (you had to show your passport to get in).
After reunification I got into the Karajan Academy of the Berlin Philharmonic, so my musical home for a few years was the very place I went when the Wall came down. For a 25-year-old from the East it was eye-opening to play in one of the world's greatest orchestras. And I toured internationally for two years. That, for a person who had been locked up since birth behind the Iron Curtain, was phenomenal. T.W.

DINAH BACKHAUS FREELANCE VIOLINIST, BERLIN
FOR MOST BERLINERS from both West and East, the Wall was a part of life, and its fall came completely unexpectedly. Very soon afterwards, a publicity-savvy West Berliner conductor had the idea of starting a group that included musicians from both German states, which became known as the Deutsches Kammerorchester Berlin. As one of the West Berliners involved, in December 1989 I found myself in Leipzig for the first time and was appalled to see that the city looked as if World War II had just ended. I was very impressed by my East German colleagues' unshakeable professionalism, and also amused by the fussiness with which they would do the rounds at each rehearsal, ceremoniously shaking hands with every member of the orchestra. I became friends with a violinist who often invited me to his home, although the most basic commodities were at a premium and he didn't even have a telephone.
Having been concerned with historically informed performance practice since my student days, I was amazed at what passed for Baroque style in the GDR at the time. Two members of a famous dynasty of violinists played Bach's Double Concerto with us using the broadest détaché strokes, as was usual in the 1950s. But for all that, I will never forget the experience of performing the Christmas Oratorio at Bach's own St Thomas Church in Leipzig, only weeks after the Peaceful Revolution had begun in that very city. INTERVIEW BY CARLOS MARIA SOLARE

SYLVIA PETZOLD VIOLINIST, RADIO SYMPHONY ORCHESTRA BERLIN
WAS BORN IN BERLIN in 1961 — the year the Wall was built — and studied at the Hochschule für Musik Hanns Eisler. After four years (1984—8) with the Dresden Philharmonic I became a member of the Radio Symphony Orchestra Berlin (RSB). Without ever being given a reason for it, I was never allowed to take part in foreign tours. Sometimes a colleague would defect during a tour, which always meant restrictions for their relatives and close colleagues.
To know what was really happening in our country we listened to foreign media, but we could only discuss it in the closest circles. Thus I heard of the Monday demonstrations in Leipzig and the growing opposition. At the same time, the GDR media were justifying the events of Tiananmen Square, so we feared the worst.
The border's opening came unexpectedly: my husband and I heard the morning news and headed immediately for West Berlin. At the Bornholmer Strasse crossing point the soldiers had flowers stuck into their guns, and complete strangers were in each other's arms.
After the initial euphoria, disenchantment soon followed. All the state institutions were closed down, including the State Radio's ensembles (except for our orchestra and the choir), and their members became unemployed. The existence of the RSB, Germany's oldest radio orchestra, was threatened, but we fought successfully to assert our place among the best radio orchestras in the world. C.M.S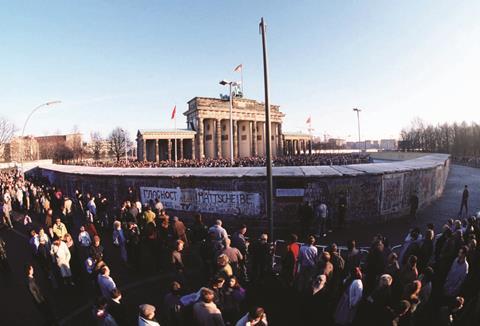 Crowds gather at the Berlin Wall in front of the Brandenberg Gate on 1 December, 1989

UDO KRETZSCHMANN VIOLIN MAKER, MARKNEUKIRCHEN
MARKNEUKIRCHEN TODAY HAS 20 individual violin making businesses. During the GDR years, there were only three. Makers were only allowed to run a private workshop if they had inherited a family business. I have a lot of ancestors from the 18th century who were violin makers — the first of them was born in 1716, in Markneukirchen — but there was a gap from 1900. So despite the fact that I was a master violin maker by 1982, it was not possible for me to start my own business. Instead I worked at the town instrument factory, which employed about a thousand people, although only a few workers, including me, made stringed instruments (most made guitars and recorders). At first the factory bosses preferred to make cheap instruments, but I pushed to make higher-quality ones.
I was involved in events in Markneukirchen before the Wall came down. It is a very small town but early on [during the protests of 1989] we went into the streets to demonstrate against the government. Every evening we walked through the town with candles. Those protests made a deep impression on me.
After reunification I could have started my own business but decided to spend time in workshops in Western Europe to expand my knowledge. Some years later I returned to open a workshop in Markneukirchen but as I was starting later than other makers who had done the same, it was difficult to break into the market. So reunification had two sides to it. There were good things of course: you could travel and compare your work with other luthiers around the world. But the guarantee of making a living was no longer there. Socially and politically it was better, but economically it was quite hard. T.W.

MATTHIAS MOOSDORF CELLIST, LEIPZIG QUARTET
THE LEIPZIG QUARTET was formed in 1988, the year before the Wall came down. In those days, the Künstler-Agentur in Berlin had the sole right to allow touring outside the Eastern Bloc countries, and we were fortunate that our tutor Gerhard Bosse recommended us for an audition. We then had to play at a national competition, followed by an international one, after which we could get international bookings — but 60 per cent of our fees went to the state. Artists were also required to surrender their passports to the Ministry of Culture in Berlin, 24 hours after the tour ended — but in 1988 we phoned the ministry and refused to do so. They threatened to inform the police, but the GDR was coming to an end by then and nothing came of it. It was simply an act of personal freedom for us.
Leipzig was the site of the first Monday demonstrations, which we attended from the beginning. We saw the crowds grow from 150—200 people at the start to more than 70,000 by October 1989. We also watched the protest shift from a simple message of freedom to calls for reunification. If the Gewandhaus Orchestra was playing on a Monday, around half the musicians would leave immediately after the concert and join the protest. Music director Kurt Masur, one of the most prominent campaigners for change, spoke at a protest in October, a month before the Wall fell. I think the perception of culture has changed since reunification. Previously, every concert at the Gewandhaus would have been sold out, and people would queue for days to see Karajan conduct. Now, it's nice to get a ticket but it's no longer a top priority. Also, there's less regard for both the chamber music scene and for music education in general. INTERVIEW BY CHRISTIAN LLOYD

ROGER HARGRAVE VIOLIN MAKER, BASED IN GERMANY SINCE 1981
WHEN I FIRST WENT to Germany, in 1976, I did not know much about the Wall and for someone from the UK, it was quite a culture shock. I hitch-hiked to see my girlfriend — now my wife — who lived in West Berlin and subsequently went with her to see some of her family in the eastern sector of the city. I passed through Checkpoint Charlie, which no longer exists of course. As a German she was required to use a different border control. Going through, I was strip-searched by East German border guards. I was so scared I could hardly stand up, my knees and legs were shaking so much. Fortunately this never happened again and throughout the 1980s and 90s I frequently went behind the Iron Curtain. There were two reasons for this: judging violin making competitions and delivering and adjusting instruments at the North Korean and other eastern embassies in East Berlin. Judging competitions took me to several Eastern European states, including Poland, Czechoslovakia, Romania and Bulgaria. Although the general standard of making was much lower in the East, there were several exceptionally good makers. When the Wall finally came down, many makers I had got to know through my trips to the East came to see me. They were completely confused by what had happened: previously the government had bought all their instruments and now quite suddenly they were facing a free market where they were required to find customers for themselves. Many were simply not good enough, but at the other end of the spectrum, some excellent makers were selling their instruments too cheaply. It was a difficult time for Eastern European makers. They had to shape up pretty quickly. People often ask me why I accepted these judging engagements at the height of the Cold War. I did it simply because I believed in promoting contact, especially through music. I have never regretted this. T.W.


MARKOLF EHRIG FIRST VIOLINIST, KONZERHAUSORCHESTER BERLIN
IN THE GDR, theatres and orchestras were promoted as cultural heritage assets. That said, out of over 70 orchestras in East Germany, no more than 15 were capable of competing on the international stage. Normally musicians in the nation's top orchestras were spied on by the Ministry for State Security (Stasi). In 1989, when I started working at the Berliner Sinfonie-Orchester (BSO) [the previous name of the Konzerthausorchester], a file was immediately opened on me. One of the reasons for these Stasi files was that quite a few colleagues used the opportunity of concert tours to flee to a freer world in a relatively safe fashion. A month after I joined the BSO the orchestra board was very brave to question our participation in a gala concert held in the Palace of the Republic to celebrate the GDR's 40th anniversary. There was considerable political pressure to perform in the concert. Even worse, shortly beforehand, we had witnessed the beating of demonstrators. Naturally, given the situation, there was little enthusiasm to play. Immediately after the Wall fell there was a tremendous spirit of optimism and enthusiasm in both parts of the city, including the first all-German demonstration with knotted East and West German flags on Kurfürstendamm (on 10 November 1989), which I attended. In January 1991 the BSO was threatened with dissolution, but after a successful tour of Japan the issue was dropped. In Berlin a total of four orchestras were either phased out or excluded from funding after reunification. In 1996 and most recently in 2006, attempts were once again made to bring about a merger with other orchestras, thereby reducing the number of salaried jobs. Musical talent and a loyal core audience helped to ensure that such plans never came to fruition. T.W.

CLAUDIA SCHÖNEMANN VIOLINIST, ORCHESTRA OF THE DEUTSCHE OPER BERLIN
MY MOTHER'S FAMILY is from Brandenburg, but she went over to West Berlin before the Wall was built. It was very difficult and trying for West Berliners to cross into East German territory (it was easier for foreigners); we had to apply in advance for a visa, and they put all kind of obstacles in the way. In the months preceding the fall of the Wall, wave after wave of defectors came over to the West through the Hungarian border. On the night of 9 November 1989, when the Wall finally came down, I was playing in the opera, and only heard the news late at night on TV. Having lived all my life in West Berlin, it was marvellous to discover at a stroke that the city did have a hinterland! Now I live in the countryside, on the outskirts of the city. When musicians from the former GDR started showing up for auditions, they were invariably of the highest level, which says a lot for their educational system. But after a few years we stopped noticing if a candidate was from the Eastern or the Western part of Germany, a sure sign that reunification had been achieved. C.M.S
This article was first published in the March 2014 issue of The Strad.