The violinist stresses the importance of profiling contemporary composers of every visual colour and every invisible one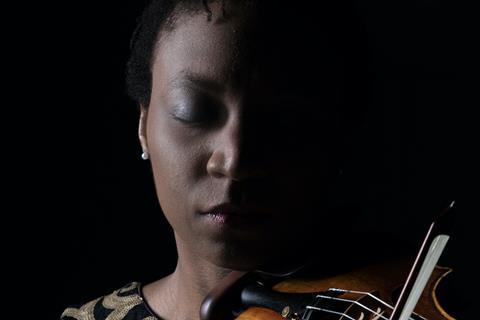 Last September, I performed at the Wigmore Hall in a brief moment of reprise from the inertia which has gripped the classical music world. It was a blessed moment.
After a programme of Mozart, Bartók, and Brahms, we gave an encore of 'Quit Dat Fool'nish' by William Grant Still. A respected member of the Harlem Renaissance, Still was the first Black conductor to lead a major US Orchestra – the LA Philharmonic in July 1936 – and the first African-American composer to have an opera performed by a major company. He incorporated the blues, spirituals, jazz, and other American continental music into his orchestral and operatic compositions. I recorded for release 'Quit Dat Fool'nish' soon after the aforementioned Wigmore, it is on my upcoming album celebrating Beethoven, and illuminates why Black musicians and composers stand alongside him in the modern world. The album includes music by Joseph Bologne Chevalier de Saint-Georges, contemporary composer Jeffrey Scott, and Beethoven's 'Kreutzer', which was premiered by African-German-Polish violinist George Bridgetower.
Everyone should speak of Florence Price. Every orchestra wants to perform her music. She was commissioned by the Chicago Symphony Orchestra in 1933. Eighty years on we have literally missed our chance to properly celebrate such a talented composer. I just hope we now celebrate contemporary composers such as Adolphus Hailstork, Hannah Kendall, and Roger Zare.
Watch: Augustin Hadelich plays Chevalier de Saint-Georges
Read: Augustin Hadelich: 'as a violinist you never run out of great music to discover'

Read: Six composers of colour to write new pieces to be performed by 24 orchestras
Celebrating the music of today is hugely important, and making heard contemporary composers of every visual colour and every invisible one, on every concert programme, I consider a responsibility towards the future. Six years ago, Chi-chi Nwanoku founded Chineke!, Europe's first majority Black, Asian, and ethnically diverse orchestra, with whom I have performed, and recorded Errollyn Wallen's Concerto Grosso.
Making music with others is all to do with treating them as individuals, and whether you can relate on a musical and human level. Our colour of skin is not the conversation, but when it is - racism is not my burden. 2020 changed the world, and while classical music continues to exceed expectations in a digital world, this is an apt opportunity to rethink and reboot and continue the progress.
I look forward to joining Rebecca Miller online next week in her forum Beyond Borders for a discussion - 'Shining a Light' - on gender and racial diversity in classical music and the future of the industry's efforts. Matthew Swan, CEO of City of London Sinfonia and Genevieve Arkle, academic and advocate of diversity, join the panel. 2021 will include music because humanity demands it.
The Beyond Borders series of discussions runs from Monday 22 February at 2pm to Friday 26 February. Shining a Light with Tai Murray is at 4pm to 5.30pm on Friday 26th February. www.beyondborders.org.uk