The Elgar Cello Concerto has played an important part in some of the US cellist and pedagogue's most memorable, emotional and significant concerts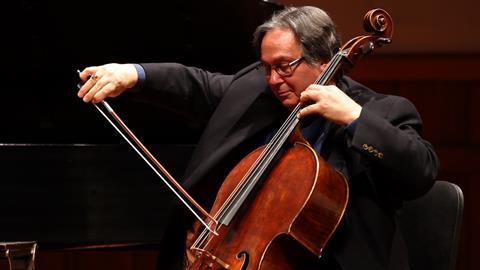 The first time I heard the Elgar Cello Concerto in concert was on 14 May 1965, when Jacqueline du Pré made her New York debut. I was in town to have some adjustments made to my cello and as I walked past Carnegie Hall I noticed that she was playing that night, so I bought a ticket. From the opening chord onwards, her performance was breathtaking. She took hold of the piece from that very first chord and wove what felt like an unbroken line through the entire concerto; I was overcome with emotion at the power of the work itself, and her interpretation of it. In those days it wasn't so hard to go backstage and meet the soloist, so I lingered until the people before me had gone, and then went to express my appreciation to Jackie. She was so warm and gracious to me as we sat talking on the steps of her dressing room – it was a wonderful introduction to the work and to her.
Since then, the Cello Concerto has been a work of great importance to me, at various stages of my life and career. When I moved to the UK in 1970 it was the first concerto I performed, with a London-based amateur group called the Informal Symphony Orchestra. The conductor Kerry Woodward invited me to be soloist and the concerto I wanted to play was the Elgar. Then, for 20 years I was artistic director of the Manchester International Cello Festival, and after I decided to move back to the States I arranged for an all-British programme to be performed: Yo-Yo Ma played the Walton Concerto, Natalia Gutman the Britten Cello Symphony, Colin Carr the Oration by Frank Bridge, and I played the Elgar Concerto. So you could say my whole career while residing in Britain was bookended by performances of that special concerto.
My most personal, emotional and important performance of the concerto was on 14 January 1973 in Connecticut, with the New Haven Symphony Orchestra, whose principal cellist I had been while I was a student at Yale. The engagement had been in my concert diary for 18 months. I was visiting my family in Texas beforehand, and during that time, my mother passed away from a stroke. We were all devastated. As it happened, my mother had been born in New Haven. I said to my father and siblings, 'How am I going to play a concert like that?' They all agreed that it was something I had to do.
What's more, I had to stop off in New York to pick up a new cello, a 1729 Montagnana that was to replace my Guadagnini. I stayed with my aunt and uncle in New Haven for four days, practising for ten hours daily just to get used to the new instrument, and to try to prepare for what would obviously be a very emotional concert. I believe that it was possibly the best performance I have ever given of the concerto; the audience was clearly moved, as we received a standing ovation and played an encore. As for the Montagnana, it's been my principal performing instrument for the past 44 years.
In 1977, twelve years after I'd first heard Jacqueline du Pré's performance, I was booked to perform the concerto myself at the BBC Proms. By that time Jackie had stopped performing, although she still taught. I asked if we could go through the piece together, and we had a wonderful light-hearted session; Jackie's advice generally was to make much bigger gestures, and to exaggerate aspects of a musical phrase more than I was doing. Jackie loved jokes and it was a fun, lively encounter that certainly helped in building my interpretation of the piece.
Interview by Christian Lloyd
From the August 2017 issue of The Strad. Click here to subscribe