The Ukrainian-US violinist tells her story of landing the associate concertmaster role with the Sofia Philharmonic, including the additional solo challenges involved in auditioning for a titled position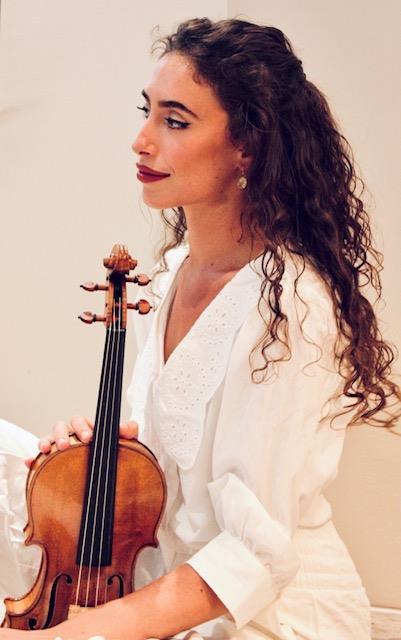 I won my position as associate concertmaster of the Sofia Philharmonic recently, in September of 2021. Prior to the audition, I began playing with the orchestra as a substitute in May, around nine months after moving to Bulgaria, after my studies in London and Brussels.
When I first moved to Sofia, I initially played with two different recording orchestras, which shared many of their members with the Philharmonic. It gave me a fantastic opportunity to get to know the players in the orchestra, before I even had the thought to audition. My incredibly supportive colleagues actualIy encouraged me to take a tutti position audition for the Philharmonic in late 2020, but I felt that I was unprepared, and ended up declining the audition. I kicked myself for this decision for months- thinking I lost my 'only' chance, and that it would be ages until another opportunity came. Four months later, I was asked to substitute, eventually more positions became available, and I auditioned for and won a role I never thought would be open!
The audition process here in Sofia was very different to my previous experiences. This was my third professional audition, and in my two previous auditions I made it to the second round, before falling short of the position. As opposed to the typical multiple-round, blind audition, the Sofia Philharmonic required a one-round live audition. This was definitely a departure from my previous experiences! I would say both types of auditions have their positives and negatives, and I still can't decide which audition type I preferred. The jury was made of the section principal string players, and was additionally open to members of the orchestra to watch. In my audition I probably had around 30 people in the audience, besides the four-person panel. This was definitely nerve-wracking!
The repertoire was also a bit different from usual- instead of the standard Mozart Concerto, Romantic Concerto and orchestral excerpts, the Philharmonic asked for a Mozart Concerto, two movements of solo Bach, plus the excerpts. I remember when I first read the repertoire list this really threw me- I personally would choose to play any Romantic concerto over Bach in an audition setting. Nerves in auditions are a huge factor, and playing solo Bach in a pressured situation can be very exposing! This repertoire choice really forced me to focus on clean intonation, attention to detail and style in my practice.
The orchestral excerpts consisted of the usual culprits for auditions- Don Juan, Brahms 2, Prokofiev, Mendelssohn, Hindemith and others from standard orchestral repertoire. As I auditioned for associate concertmaster, I also had to prepare orchestral solo excerpts, which included the entire associate solo-part of Strauss' Also Sprach Zarathustra and solo violin part from JS Bach St. Mathews Passion. Both of these excerpts are incredibly exciting, technically demanding, (and long!), and it really was a wonderful challenge to prepare them.
I took a different approach in my preparation for this audition than my previous two. This time, I gave myself loads of time to calmly (!) start mental and physical practice a few months ahead of the audition, regardless if I had played the excerpts or solo pieces hundreds of times before. Before even touching the violin, I did intense score study of each excerpt, notating important tempi, harmonic or musical details that would influence my performance and show the judges that I not only knew my part, but really knew the work inside and out. I also made a practice schedule of which excerpts and pieces I would practice when- playing everything every day would be too overwhelming. Instead, controlled, detailed work on a rotation really made me feel secure in all my repertoire without getting the audition-practice 'burn out' or injury. Because I was already playing with the orchestra prior to my audition, I had a chance to develop relationships with existing members, and more, know the demands of the orchestra and the sound they wanted. If you don't have the chance to meet players, try to listen to recordings of the orchestra to get a sense the sound.
A few weeks before the audition, I asked for a lessons from members of the orchestra, and it was hugely helpful for my interpretations of certain excerpts, as well as revealing what needed more work, and what was stable. Regardless of your experience, asking for lessons, guidance, or even extra listening ears makes all the difference. The most important thing is to practice being nervous! Although preparing for and playing an audition is a hugely daunting task, each experience, whether it is positive or negative, is a great opportunity to learn and receive feedback. Without the challenges, setbacks, or doubts, I would never be the player I am today.
Oh, and practise with a metronome!
My audition journey: Milan Milisavljević, Metropolitan Opera Orchestra
1

2

Currently reading

My audition journey: Alexandra Gorski, Sofia Philharmonic Orchestra

3

4

5

6

7