The Strad's editor Charlotte Smith introduces the July 2020 issue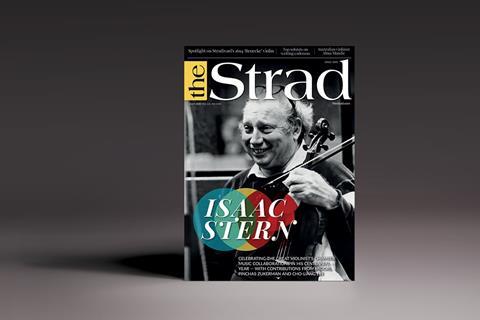 Of the past century's great violinists, Isaac Stern surely ranks among the most celebrated. Scroll through The Strad's archive, and the American musician is mentioned on countless occasions – often in detailed articles that analyse everything from his outstanding and distinctive playing style, to his mission to save Carnegie Hall from demolition, to his pioneering trip to China, the impact of which can still be felt in that country's fast-growing string scene today. How, then, to mark his centenary? On page 22, Tully Potter sheds light on an often-overlooked aspect of Stern's music making – his chamber collaborations – and discovers among them true gems of the recorded catalogue from an always generous and dedicated artist. There are interviews, too, with violinists Midori, Pinchas Zukerman and Cho-Liang Lin, who all have vivid memories of Stern's playing and teaching.
Stern's favourite violin was his 1740 'Ysaÿe' Guarneri 'del Gesù', but he was known to perform on several fine Cremonese instruments from his extensive collection, including the 1721 'Kruse, Vormbaum' Stradivari. This month, The Strad celebrates a much earlier example of Stradivari's work – the 1694 'Benecke' violin. This beautifully preserved example of the great maker's 'Long Pattern' – and the subject of our poster for subscribers – is examined in detail by Andrea Zanrè and Rudolf Hopfner on page 30, with the help of dendrochronology analysis and micro-CT scans.
As we put this July issue to press, the world continues to battle the impact of Covid-19 on our health and economies. The pandemic has been particularly disruptive for live music making, but the green shoots of recovery are starting to appear. The Strad 's website now reports daily on concert venues and promoters finding ingenious ways to begin, gradually, to stage live events again – albeit to masked and socially distanced audiences (see also Analysis on page 12). During this period of transition, however, we continue to commend those musicians filling the void with digital advice and performances. To read about how leading artists are coping with lockdown (bit.ly/2WUrH1W), how to maximise your digital teaching opportunities (bit.ly/2UEXu4N) and for numerous living-room concerts, head over to www.thestrad.com.
Charlotte Smith editor
Email me at thestrad@thestrad.com or tweet @TheStradMag
This article was published in the July 2020 Isaac Stern issue

Celebrating the great violinist's chamber music collaborations in his centennial year – with contributions from Midori, Pinchas Zukerman and Cho-Liang Lin. Explore all the articles in this issue.

More from this issue…