The Strad's editor Emma Baker introduces the December 2023 issue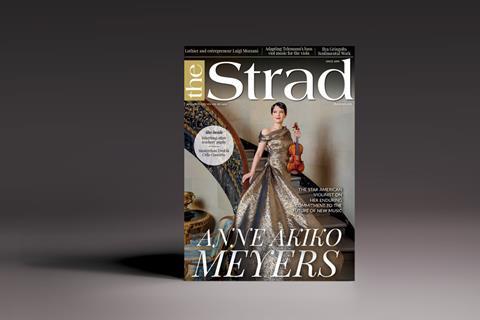 Third time's the charm for the superstar US violinist Anne Akiko Meyers, who this December makes it a hat-trick of appearances on The Strad's cover, over an astonishing 40-year period and a career spanning even longer than that (see May 1993 and June 2018). Our staff writer Rita Fernandes flew to Hollywood to speak to her and ask the question: 'what's new?' – the answer is: plenty. On page 24 Meyers shares what drives her tireless enthusiasm – among many other things, an unwavering commitment to keep the violin repertoire fresh and alive by commissioning and playing new works.
In 2015 an entire set of works by Telemann, previously believed lost, was rediscovered in a collection that had formerly been held in the vaults of a German castle. These Twelve Fantaisies for bass viol turned out to be ideally suited to transcription for the viola. On page 32 Misha Galaganov explains how he went about adapting the music for his instrument and overcoming some of the more awkward corners of the original score.
Also in this issue, we explore the lives of two luthiers who enjoyed notably unusual careers. On page 38 Stefano Pio writes about Filippo de Filippi, who, noble-born, was initially a member of the Papal court before being caught up in the complicated politics of Italian reunification. His fall from grace ultimately enabled him to devote his life to his real passion: music and instrument making. The other is fellow Italian Luigi Mozzani, whose experimental and entrepreneurial nature resulted in some extremely striking and unusual instruments made during the first half of the 20th century. Lorenzo Frignani explores his life and legacy on page 52.
Emma Baker editor
Email me at thestrad@thestrad.com or tweet @TheStradMag