Violinist David Le Page explains how he found the connections between Rameau and Radiohead, Schubert and The Smiths through arrangements for Orchestra of the Swan's new album Timelapse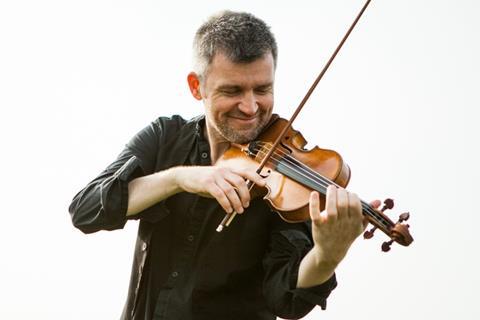 Orchestra of the Swan's new album, Timelapse, features a number of my arrangements. Some of them are simple - straightforward transfers from keyboard to ensemble in the case of Gnossienne 1 by Erik Satie and Les Barricades Mystérieuses by François Couperin - and others combine original composition with existing works. Yet more are what I call 'reimaginings' of well-known songs, a few of which are almost unrecognisable in comparison with the source material.
There are many ideas about what constitutes a 'good' arrangement and there are talented practitioners who approach the task in an impressive and virtuosic fashion. Complexity and compositional dexterity can be dazzling, as is the case with Ravel's orchestration of Mussorgsky's Pictures at an Exhibition. In my teens I was so astonished and enamoured by his rendition that when I finally heard the original piano version I have to admit to being a little disappointed.
Sometimes the simplest path is the one that will connect with an audience most effectively. Composers and arrangers can be seduced by complexity - I know I am - but removing, editing and stripping back can be even more powerful. Simplicity is often the way to get to the heart of the matter.
I love the idea of reduction and have always been inspired by the idea of Schönberg's Society for Private Musical Performances in which arrangements and reductions of works by Stravinsky, Bartok, Debussy, Webern, Mahler and even Johann Strauss II were presented in an intimate venue for a small audience. There are many new insights to be gained from hearing a Mahler symphony performed by only 15 players.
Occasionally the execution of a new arrangement is the aspect that requires the most effort and first rehearsals can sound unconvincing, usually because some of the writing is unidiomatic. Taking an instrument/instrumentalist out of its/their comfort zone, however, can contribute positively to the end result. A certain awkwardness might become a virtue and even the hook that makes the arrangement outstanding.
On Timelapse I have 'reimagined' well-known songs by David Bowie/Brian Eno and The Smiths. The process I have used is different from working out a carbon copy arrangement or a cover version. The Bowie/Eno song Heroes, in its original form, is a driven, yearning and almost uncomfortably layered slice of pop/rock; euphoric and poetic in equal measures. I wanted to preserve the 'feel' of course but in my version I have substantially slowed everything down so that aspects of the music can be examined in an entirely different way. Heroes becomes a gently rotating and beautifully constructed mobile in which the musical cells can be viewed up close, as if through a microscope.
The Smiths song 'There is a Light that Never Goes Out' is possessed by an ironic, urban, English melancholy which I felt would be fascinating to translate to the orchestral realm. I love the lyrics: 'And in the darkened underpass I thought, "Oh God, my chance has come at last" But then a strange fear gripped me And I just couldn't ask'. Morrisey's voice has been replaced by the oboe and the band have been transformed into a lush and interwoven string section. The effect is equally English but closer to Vaughan-Williams than 1980s Manchester.
The first track, Sleep Softly, came about through a different process. It is based on material from the Schubert song Der Tod und das Mädchen but at least 50 percent of the music is mine. I responded to his music in an instinctive way, exploring new avenues and sending the music off in unexpected directions. V; as much as I love and respect it, it certainly needs the more pompous aspects of its bubble bursting from time to time.
Read: A time for reinvention – don't let the orchestra become a museum piece

Watch: Orchestra of the Swan plays David Bruce's Swanning Around
Read: Gregory Harrington: creating a new work for the violin repertoire
The album also presents the premiere of a new arrangement of O Albion by Thomas Adès. This is the penultimate movement of his first string quartet, Arcadiana, and it represents a still point in an incredibly intricate piece. For me it suggests a 'Nimrodian Englishness' combined with shades of the Cavatina from Beethoven's Op. 130 quartet. I had originally programmed it to be performed as part of a string programme, fully intending to cut down to four players, but Faber got in touch to ask if I was arranging it for full strings. The eventual outcome was far better because Tom agreed to arrange it himself.
What I have tried to do - particularly in the case of the Bowie song - is stay true to the innate vision of the artist. Bowie was always reinventing himself and his music in a way that is closer to the idea of the 'oral tradition', a concept that exists in almost every other form of music except 'classical'. The creative aspect is in the hearing - or more importantly mishearing - of the material and transforming it into something new and strange. It bears a resemblance to what has been heard but it also opens up wonderful new possibilities. The ubiquity of audio recording has changed this to some extent but the idea does still survive.
'Classical' music, broadly speaking, is more about getting as close to the composer's original intention (via the written score) as possible. In this world the score is a sacred object. As music moved through the Classical period, into the Romantic and beyond, the adherence to the score became paramount. Beethoven was meticulous - although occasionally mysterious - in setting out exactly what he required from the performers. After Beethoven the floodgates opened in terms of exactitude on the page. It's not unusual with some composers, particularly in the 20th century, to find a multitude of markings surrounding every note. The intention is to make everything clearer but I'm not convinced it always does.
Timelapse leans towards the notion that periods of time in relation to music have always been somewhat fluid and in the last 20 years or so they have been rendered almost obsolete in our brave new world of streaming and instant play. We have reached a moment in time where we can imagine the piece of music we want to listen to and within seconds actually be doing so. Our vast record collections, although invisible, can be instantly accessed at the click of a button or by the swipe of a screen.
The title Timelapse implies that the works on the album exist oblivious of time and that it is irrelevant whether they were composed in the 17th century or the 21st. Rameau and Vivaldi sound as fresh and contemporary as Adès or Radiohead. Conversely, Bowie and The Smiths, in the context of Timelapse, seem to have more in common with Mahler and Vaughan-Williams. Just as with time lapse photography the album enables us to gain some perspective about the passage of musical history through the centuries.
To see a video of Le Page's take on Radiohead's Pyramid Song, as featured in the Timelapse album, click below
For a video of Le Page's arrangement of Charles Trenet's La Mer, as featured in their new concert, Wind, Sand and Stars, click below