Violinist David Le Page, Artistic Director of Orchestra of the Swan explains his approach as their Luna programme streams this Thursday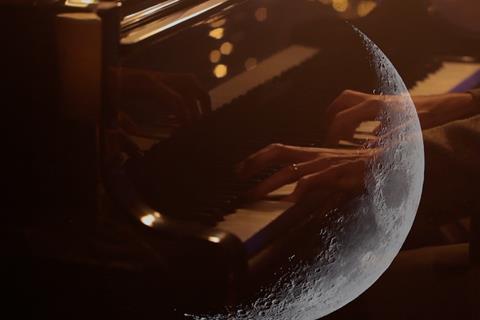 For some time, the professional orchestra has battled for survival. Not only does it make no financial sense, it is more often than not perceived as an elitist pastime, with the musicians lucky to enjoy such a 'hobby'. Orchestras are increasingly required to justify their existence and prove that they are essential to the communities in which they live. Now in the era of COVID-19, these problems have magnified. Many freelance musicians are out of work, barely able to make a living at present. There was a brief month of excitement when concerts could return with restricted audiences, but as of this week venues have to close their doors again.
During lockdown, orchestras fumbled around in the darkness trying to be heard and seen online competing with the myriad offerings on YouTube, Netflix, Prime and more. When they did make it onto a social media platform, did they begin to look like an anachronym, unable and reluctant to adapt to the full potential of the multi-media age?
This is more than a crisis of identity. When I joined the Orchestra of the Swan in Stratford-upon-Avon as its new Artistic Director, two years ago, I explained to the board that the Orchestra of the Swan (OOTS) can either choose to exist as a 'museum piece' or can embrace the cultural environment in which it finds itself and become not only relevant but indispensable. But with so many other chamber orchestras in the UK and Europe, we had no other option but to present something different.
The inclusion of 'contemporary classical' repertoire is important and necessary. It is our duty as an aspiring international arts organisation to challenge our audience with unfamiliar repertoire and works that take us out of our comfortable listening zones – works that require a deeper concentration and a willingness to take in new sounds. It is only in the last 100 years or so that the classical world has succumbed to a 'museum' atmosphere where the reliance on much older music has become the bedrock of most programmes.
That is not to say that the existing canon of repertoire we have access to does not require an equal amount of concentration and immersion. Classical works can be long and do require a thoughtful, meditative state of mind and a willingness to allow the music the time it needs to develop and reach a conclusion. There are not many other areas of our 21st century lives which promote these particular mind skills, particularly in relation to younger people. The emphasis in our contemporary culture seems to be on quick and easy access to an astonishing and sometimes bewildering range of material often received through the medium of a screen. The experience and satisfaction of spending such an unusually concentrated amount of time is hard to find in other areas of our 21st-century culture.
My own career as a violinist has not been entirely conventional. I quickly veered off in unexpected directions, writing, arranging and performing a wide range of musical genres, from baroque and folk through to jazz, contemporary classical and experimental rock, pop and electronica. You might have heard me playing Paganini's Caprices for Hilary Mantel's Shaking Hands with Satan talk or performing with kora player Seckou Keita or jazz pianist Keith Tippett. I love blurring the edges of musical boundaries, not to create some kind of crossover hotchpotch, but to find the connections between the past and the present. It's this spirit that I want to bring to OOTS and the reason I brought jazz pianist, harpsichordist and arranger David Gordon on board to explore how we could create a thread connecting Rameau to Max Richter.
This Thursday evening at 8pm, we are releasing a film, an evening of words and music inspired by the moon. Luna auspiciously coincides with NASA's recent discovery of water particles on the moon. Our programme spans excerpts from Haydn's O Luna Lucente, Beethoven's Moonlight Sonata, Debussy's Claire de Lune, Schoenberg's Verklarte Nacht to music by Philip Glass, Paul Simon and my own arrangements. We have interspersed this with words from J.F. Kennedy, Buzz Aldrin and Andrew Smith on moon exploration as well as the poetry of James Joyce, Sylvia Plath and Tehereh Mafi. As well as exploring the romantic idea of the earth's mysterious neighbour 240,000 miles away as an object of longing, mystery and romanticism, we tell the story of the unprecedented scientific leap that captured the world's imagination more than half a century ago.
Watch: Orchestra of the Swan plays David Bruce's Swanning Around
We need to draw people in with ideas they can relate to. Why do we need to do this? Theatre, dance, cinema, the visual arts have been doing this successfully for years. Their audiences are more diverse. Orchestras are several steps behind in this respect.
To a certain extent what we do on stage is theatre; it is not good enough just to turn up and play and expect the audience to enjoy it. How we communicate with audiences when we are on stage or through the prism of a lens leaves a lasting impression. Working closely with a theatre director on the physical aspects of this could be helpful. This applies to how we begin, how we leave the audience feeling at the interval and the way we finish – all are elements that need to be thought through forensically. The journey of the programme itself and how an audience will perceive the whole performance needs careful consideration. Popular repertoire can be 'crowd pleasing' but audiences can be equally entertained by the element of surprise and unusual juxtaposition.
As I write this, hibernation has returned - we have had to cancel 2 more concerts and postpone another. Our next online event will be the release of Wind, Sand and Stars on 8 December inspired by the author of Le Petit Prince. This film weaves together readings from Antoine de Saint-Exupery - exploring the pre-war world of a pioneer pilot when to be a pilot was a thing of wonder – with a soundtrack of Satie, Ravel and Debussy. There will be more surprises with our album Timelapse out in January on the Signum label. From mid-November, you can get a taster with preview tracks of Satie and Vivaldi Sleep, a new jazz inspired arrangement by David Gordon from the Four Seasons. Let's make orchestras a life-force in 21st Century – not a dodo in a glass cabinet.
Luna, the orchestra's a film interspersing Beethoven, Debussy, Schoenberg, Haydn and Le Page's own music with poetry by Sylvia Plath, James Joyce and Tehereh Mafi, is available to watch online for a month.
To watch, please buy a ticket here: https://orchestraoftheswan.org