To tie in with the release of their new jazz and rock-infused take on Messiaen's Quartet for the End of Time, Ben Russell and Brandon Ridenour of the songwriting collective, Founders, explain why no work should be off limits to rearrange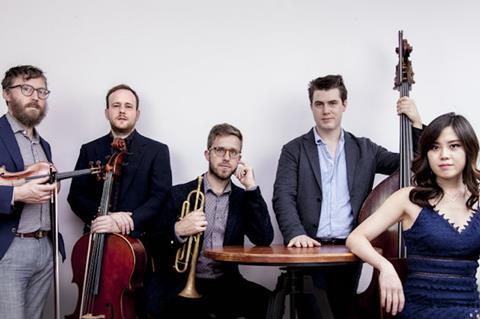 It has been proven that recycling is good for the environment. The same can be said for recycling music. Reusing/rearranging music in different formats and styles can in fact result in a good (musical) environment. Everyone benefits! The audience, the arranger and the original music can all be enhanced by a thoughtful arrangement. And when the original work is already of great value, the enrichment for all is even greater.
The benefit for the audience is easy to see. Musical recycling will reach more people who have various musical backgrounds and tastes. New arrangements can often be performed in a different venue to the one appropriate for the original work. Different settings reach different listeners. Those unfamiliar with the established work may seek it out for the first time. The arrangement could take them into a new world of listening that they had never bothered to visit. And those familiar with the original can listen to it again with an enhanced understanding. Essentially, the audience is getting more—more new ideas, and more of the original work from a unique perspective.
As arrangers, we find the benefits to be almost endless. For starters, observing the score and listening intently to the music we're about to arrange helps us peer deeply into the original work and understand its basic building blocks. Melody, chord structure, harmonic voicing, rhythmic variants, phrasing, overall compositional pacing… the list of things to observe is extensive. The more we study, the more our admiration of the original work deepens. One of our favourite things to discover about great musical works is deviation from the familiar. Most great composers are creative deviants! But it wasn't until we began rearranging their excellent music that we discovered how often they parted from normal, safe composing. Not only does this departure from routine create great art, but we quickly learned that to refashion a masterpiece, we needed to be better deviants ourselves.

Read: 'I don't feel at all guilty about tinkering with the 'classical canon' – David LePage
Read: A time for reinvention – don't let the orchestra become a museum piece
Read: Gregory Harrington: creating a new work for the violin repertoire
In addition to what we receive from observation, as arrangers we also benefit from having a basic foundation upon which to create. Often starting a new work from scratch can be intimidating and discouraging. When we are refashioning a great work, we can choose how much to copy and how much of our own ideas to use. It's like a beginner's tutorial on how to compose. And being intimately engaged with a masterpiece also inspires us to be better writers in our own music.
Now for the delicate part: When we say that the original music could be enhanced by a thoughtful arrangement, there will be those who hotly disagree. But one shan't mingle Garth Brooks with J.S. Bach! Yeah, sometimes things sound weird next to each other. There will be haters. There will be purists. But to be clear, we are not claiming the original gem needs changing or improving. Quite the opposite. Like a fine diamond, the original work needs no addition—but setting a good arrangement can give greater illumination to its various facets.
We believe that all music should be available for recycling—nothing should be off limits. We are not downplaying copyright laws or suggesting to take someone's music without remuneration. That's a different discussion. We are asserting that no music is too good to be used for refashioning—the benefits are too great not to do it. Countless pop artists, such as The Beach Boys, Lady Gaga, and Muse have all used the music of J.S. Bach in their songs. Beyonce covers Schubert, Nas uses Beethoven and Radiohead borrows Chopin. But it doesn't stop there—Mozart arranged Haydn, Bartók and Dvořák refashioned popular folksongs, and many famous composers have rewritten established works for new ensembles. This creative recycling has been happening for millennia, and we believe it should continue.
Though all music can be recycled, there is something to be said about refashioning a piece of art that has managed to stand the test of time. The artistry and integrity within a great work is something to be celebrated and handled with utmost respect. An architect or building developer isn't going to build with flimsy, unstable materials. Similarly, an arranger will have a greater impact by using creative and valuable musical materials.
If you are thinking about recycling some great music, here are some questions for you: 'Where do I start?' Fortunately, the basic structure is already in front of you: somebody already created a masterwork for you to use in your exploration. But you don't have to stick to the original format of the work, it's just a variable to consider. 'What style do I want to write in?' If your piece is the exact same style, then why would we want to listen to your arrangement versus a great recording of the original? Which leads to an important consideration: 'Who am I writing this for?' Having an ensemble already decided is helpful, and if you know the players personally, this can enhance the character of your arrangement. Maybe someone in your group has a strong folk or jazz background; you can bring that element out in your new adaptation.
Founders endeavour to recycle great classical works of art, taking them into other outlets besides the usual classical venue. We are also bringing music from the contemporary band and jazz scene into the classical world. We've looked at it from both sides now (thank you, Joni) and have concluded that no matter what musical culture you're in, we all have much to learn. Remoulding existing materials into new, beautiful creations is the essence of recycling and it can benefit everyone.
So, in conclusion, please recycle! Thank you.
Founders is a New York-based songwriting collective known for combining classical and folk music with original compositions and pop arrangements. Their new album, Songs for the End of Time Vol. 1, features a new take on Olivier Messiaen's Quartet for the End of Time, incorporating the sounds of jazz, rock and other non-classical styles. Its release on January 15 coincided with the 80th anniversary of the original work's premiere.