Taiwan-born, American violinist Cho-Liang Lin took part in several of Isaac Stern's late chamber music recordings. Here he shares his impressions with Tully Potter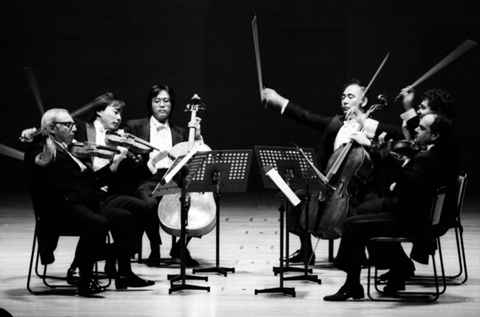 The Strad's July 2020 issue celebrates the centenary of Isaac Stern with a focus on his chamber music collaborations, and contributions by violinists Midori, Pinchas Zukerman and Cho-Liang Lin. To read in full, click here to subscribe and login.The July 2020 digital magazine and print edition are on sale now.
TP Do you have special memories of the sessions with Stern?
C-LL We all went up to Troy, New York State, to record in the beautiful Troy Savings Bank Music Hall. Mr Stern decided to record two Brahms piano quartets (the G minor and the A major) and both string sextets. I am sure it was far more taxing for him compared with what I had to do (being involved only in the two sextets). But Mr Stern had boundless energy and seemed absolutely determined to finish everything on schedule. Two moments stood out. We were recording the third-movement scherzo of the B flat major Sextet, and we did take after take before listening to a playback. Upon hearing it, we all realised the tempo was a bit slow, but it was acceptable. Mr Stern looked around the control room and asked if we wanted to play it faster. When we all said 'yes', the producer cautioned that all the previous takes would become useless. Mr Stern said: 'So be it. We will start all over again.'
We left recording the sublime slow movement of the G major Sextet until last. We were told that another group had booked the hall (it was Messiah time) and we had to vacate the stage by 11am the next day. By then, it was midnight. Everyone in the production team (we were doing a huge video production, too) assumed we'd come back the next morning. Mr Stern asked the musicians how much gas we had in our tanks. We all thought there was plenty, but he was older and had recorded two giant piano quartets as well as one and three quarters of two equally taxing sextets. We asked him if he was OK. He absolutely wanted to go on and record. We finally wrapped around 2.30am. It was an impressive display of stamina, sheer determination and dedication.
Read: 'He taught me how to stand up for what I believed in' - Midori remembers Isaac Stern
Read: 'He could hear and see talent, and he loved it' - Pinchas Zukerman remembers Isaac Stern
Read: 'My father hated competitions': David Stern at the Shanghai Isaac Stern Competition
TP What was the atmosphere like, working with Stern? Were you and the others in awe of him?
C-LL It was always an occasion to go to his Central Park West apartment to rehearse. A cigar would be by his music stand. A big lunch spread was being prepared. Mr Stern was nowhere to be seen. He was perpetually late. Most of the time he was on the phone. We used to tell him he should plant a phone around his neck (how he would have loved Bluetooth earbuds!). Even after the rehearsals started, he would get called away to talk some more – be it to Henry Kissinger or Carnegie Hall. There was always something. Having said that, Mr Stern was great during the rehearsals.
I played my first performance of the Brahms sextets and the G major String Quintet with him. It was a daunting task. I knew the B flat major Sextet well, but the G major was far less familiar to me. Mr Stern was always very kind in giving me tips on how to play with him and on how to make the music better. Having great colleagues all around was immensely inspiring. After tours and many concerts, I got to know exactly how to anticipate what he was going to do. It was always about looking for the longest phrase possible and about finding the appropriate gestures and the most exquisite colours we could produce. I use the same axioms to this day.
TP How did your two violins match?
C-LL He used the 1740 'Ysaÿe' Guarneri 'del Gesù' all the time. It was his most beloved instrument. And he would use either a Tourte or a Pajeot bow. I used the 1707 'Dushkin' Stradivari in the Brahms sextet recordings. In the Schubert Quintet, I was using the 1733 'Lafont-Siskovsky' Guarneri 'del Gesù'. Yo-Yo Ma was playing mostly on his 1733 Strad. One time, we were in Tokyo and the six players piled into a stretch limo and we had to stuff all our instruments into the boot. I still remember Jaime Laredo saying: 'We'd better not get rear-ended!'
This article was published in the July 2020 Isaac Stern issue

Celebrating the great violinist's chamber music collaborations in his centennial year – with contributions from Midori, Pinchas Zukerman and Cho-Liang Lin. Explore all the articles in this issue.

More from this issue…