The reinvented final of the competition saw performances in the 'Tribute to Isaac Stern's Centennial SISIVC Winners' Concert' from 26 to 28 August 2022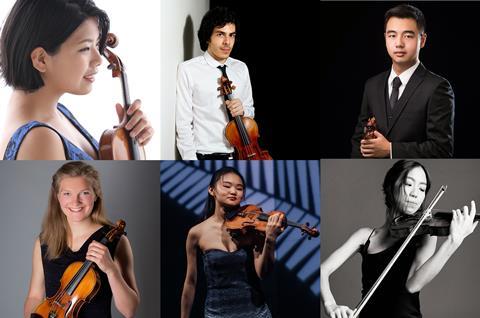 The six finalists for the SISIVC
Top: Rino Yoshimoto, Thomas Lefort, Ruifeng Lin
Bottom: Felicitas Schiffner, Angela Sin Ying Chan, Shannon Lee
Watch more videos here
Following two years of delays due to Covid-19, the Shanghai Isaac Stern International Violin Competition (SISIVC) announced a change to its competition system in July 2022. Instead of the contestants competing for the top prize of USD $100,000, the six finalists would perform in a co-winners' concert, as a tribute to Isaac Stern.
No ultimate winner was to be announced, instead each participant would be awarded a certificate for entering the final round of the 2020 SISIVC, as well as a scholarship of USD $20,000 for their future education and career development.
Over three days from 26 to 28 August, each finalist performed with their collaborative pianist, a concerto of their choice, plus the competition's commissioned concerto Night Tour by Zhou Tian.
Day one:
Rino Yoshimoto, Violin
Mana Oguchi, Piano
Programme:
Henryk Wieniawski: Violin Concerto No.1 in F-sharp minor, Op.14
Zhou Tian: Violin Concerto Night Tour (Commissioned by SISIVC)
–
Thomas Lefort, Violin
Vuong Thuy Anh, Piano
Programme:
P.I. Tchaikovsky: Violin Concerto in D major, Op. 35
Zhou Tian: Violin Concerto Night Tour (Commissioned by SISIVC)
Day two:
Ruifeng Lin, Violin
Qiuning Huang, Piano
Programme:
Henryk Wieniawski: Violin Concerto No.1 in F-sharp minor, Op.14
Zhou Tian: Violin Concerto Night Tour (Commissioned by SISIVC)
–
Felicitas Schiffner, Violin
Elisha Kravitz, Piano
Programme:
Johannes Brahms: Violin Concerto in D major, Op. 77
Zhou Tian: Violin Concerto Night Tour (Commissioned by SISIVC)
Day three:
Session FIve
Angela Sin Ying Chan, Violin
John Lee, Piano
Programme:
L. v. Beethoven: Violin Concerto in D major, Op. 61
Zhou Tian: Violin Concerto Night Tour (Commissioned by SISIVC)
–
Shannon Lee, Violin
Arseniy Gusev, Piano
Programme:
Johannes Brahms: Violin Concerto in D major, Op. 77
Zhou Tian: Violin Concerto Night Tour (Commissioned by SISIVC)