Composer's sketches previously owned by private US collection now available to public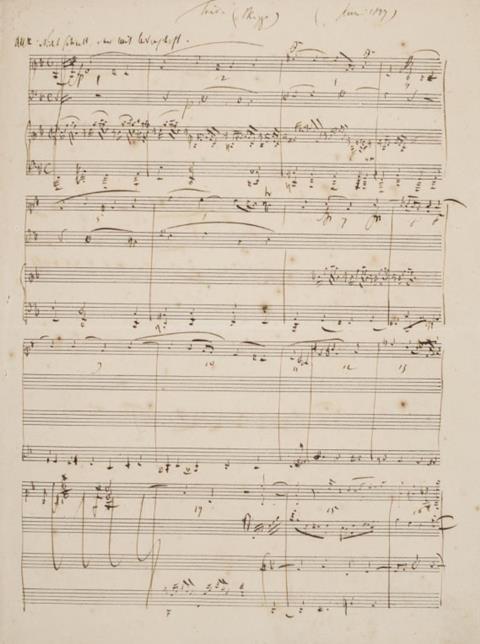 The original notes for Schumann's Piano Trio no.1 have been sold to the Saxony State Library (SLUB), having been uncovered in a private collection in America.
The purchase of the manuscript, which grants insight into Schumann's compositional thinking, was completed for a six-figure fee and was funded by the German federal government and cultural foundations in Germany and the US. The 25-page notebook, sketched in pencil and ink, includes the musical framework and material for the first, second and fourth movements.
Schumann began work on the trio on the day of his 37th birthday – 6 June 1847 – choosing D minor in homage to Mendelssohn's piano trio in the same key. Over the next ten days, the Schumann household books repeatedly testify to Schumann's 'joy' with his progress on the trio, the sketch of which was finished on 16 June. Schumann gave the trio to his wife Clara on the day of her 28th birthday: 13 September 1847. It was first performed that same evening with Clara on the piano alongside Dresden concertmaster Franz Schubert and cellist Friedrich Kummer, who were family friends.
Schumann's sketches remained in the possession of his eldest daughter Marie until the beginning of the 20th century. In 1911 they were put up for sale at CG Boerner in Leipzig and reached the Schumann Collection of the Zwickau Obernberg Council. The works appeared on more than one occasion at the Schumannfest in Düsseldorf before disappearing into private hands.
The SLUB possesses material on a number of Schumann's songs and works for piano. The library also owns the 'Schumann-Album', a collection that comprises over 420 pages including covers, albums and correspondence between Robert and Clara Schumann and their friends and acquaintances.
Subscribe to The Strad or download our digital edition as part of a 30-day free trial. To purchase single issues click here.
Image: courtesy SLUB