Leah Hollingsworth and Bruce Hodges review two concerts by the superstar cellist within the space of two days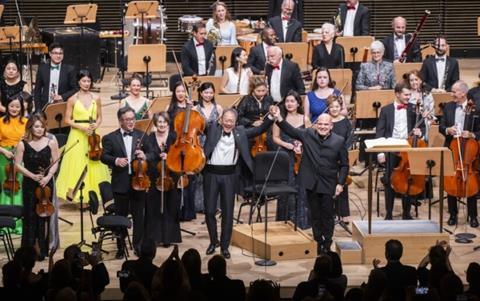 Yo-Yo Ma (cello) New York Philharmonic/Jaap van Zweden
David Geffen Hall, New York, 27 September 2023
Yo-Yo Ma (cello) Philadelphia Orchestra/Yannick Nézet-Séguin
Verizon Hall, Philadelphia, 28 September 2023
In a rare, back-to-back demonstration of the mobility of today's superstar musicians, Yo-Yo Ma was the nexus for not one, but two season openers: first with the New York Philharmonic and Jaap van Zweden, and, the following night, with the Philadelphia Orchestra and Yannick Nézet-Séguin.
In New York the evening began with Beethoven's Egmont Overture, with expertly crafted articulation from the orchestra's strings, followed by lushness and nostalgia in Tchaikovsky's Capriccio italien.
But Ma was the centre of the evening's attention in Dvořák's Cello Concerto, offering precision, subtle power and passion after the opening orchestral tutti (and an unforgettable horn solo). Ma's pristine spiccato and poignancy in the theme created magic on stage.
Anthony McGill's clarinet solo made a fitting introduction for the cellist's tender entrance in the Adagio, and his open-hearted playing and conversational interactions with the solo winds and string sections brought a real warmth to the proceedings.
Ma's boyish grin in the finale highlighted its playful side, and there was great warmth to his wonderful duet with concertmaster Frank Huang, while the concerto's final arpeggio sequence was given with beauty and palpable affection.
Twenty-four hours later, now in Philadelphia, the busy cellist switched gears entirely for Shostakovich's First Cello Concerto, which he admits has haunted him ever since he first heard it. Its introspection made it something of a daring choice for an opening night event, but the packed hall was clearly paying attention. The opening was almost too quiet, as if Ma were engaged in an interior monologue, lost in arcane thought. It didn't hurt, either, that his tone – sometimes deliberately veiled for effect – was a joy all by itself.
Among many highlights was a passage with the violas, in an orchestra overflowing with string resonance. But the apex came with the cadenza, five absorbing minutes of hushed vehemence and sorrow, as if someone were whispering in the cellist's ear. An encore wasn't really needed, but an imaginative one came anyway: the Tango from Albéniz's España, arranged for cello and violin, with concertmaster David Kim, who was marking 25 years leading the ensemble.
The evening began with Jennifer Higdon's Fanfare Ritmico (1999), a percussion-laced six minutes that set a suitably festive mood. And to close came Rachmaninoff's Symphonic Dances, with the orchestra's massive string contingent – like the rest of the ensemble – at full tilt.
LEAH HOLLINGSWORTH AND BRUCE HODGES