German cellist Constantin Paul Siepermann has won the Gustav Mahler Prize and receives 30,000CZK (£1,000)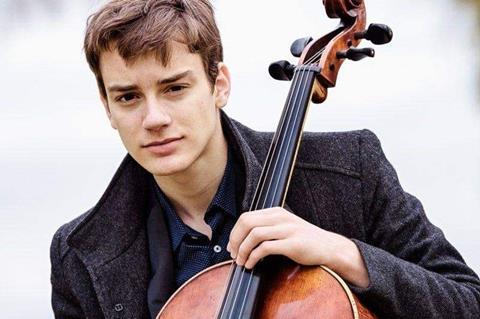 On 7 February 2022, Constantin Paul Siepermann was named the Gustav Mahler Cello Competition's Absolute Winner. He will take home a trophy and 30,000CZK (£1,000). He is currently studying with French cellist Jean-Guihen Queyras at the Freiburg School of Music in Germany and is a laureate of various other competitions including the Young Talents' Competition, Dussman Competition Berlin and Napolinova Competition.
Czech cellist David Pěruška was named the best Czech competitor and also won the Gustav Mahler Philharmonic Jihlava prize, which comes with future concert opportunities. Arne Zeller and Yuqi Wang, from Germany and China respectively, were both awarded the Chief Conductor of the Gustav Mahler Philharmonic Jihlava prize, while the Jury President prize went to Australian Jiyou Parke.
Other significant prizes included the Director of the Mahler Institute prize, which went to Ziqi Lui and Tam Pak Shun Parson from China and Hong Kong, and the Mayor of Jihlava prize, awarded to Jun Gardiner from Australia.
President of the Jury, Petr Nouzovský, said of the competition, 'The level of all the young cellists was extremely high, but only one can win, and we're glad that there was a consensus in the jury. Thank you to my fantastic colleagues in the jury! I am looking forward to seeing you all in Jihlava in the future.'
The Gustav Mahler Cello Competition is organised by the Prague-based Gustav Mahler Institute, in collaboration with the Gustav Mahler Philharmonic Jihlava, where Mahler lived for 15 years. This year's one-round competition ran online, with cellists from around the world sending in videos to compete for the competition's various prizes. They had a free choice of programme but were only allowed to perform by memory. The competition was divided into eleven age categories, covering all ages under 30.
Previous winners of the competition include Simon Eberle, Yeeun Kang and Temesvári Bence.
All of the competitors' videos are available on the competition website.