New York based Aizuri Quartet takes grand prize at University of Michigan School of Music competition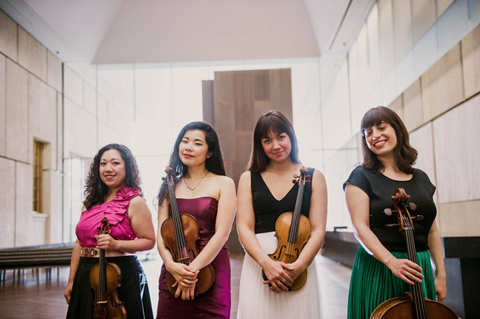 The Aizuri Quartet has won the grand prize at the University of Michigan's M-Prize Chamber Music Competition.
The group, comprising violinists Ariana Kim and Miho Saegusa, violist Ayane Kozasa, and cellist Karen Ouzounian, receives $100,000 – the most substantial prize for chamber music in the world, according to the competition – as well as concert engagements, representation by Concert Artists Guild, and a recording with Azica Records.
Second and third prize in the Senior Strings category went to the Verona Quartet and Vera Quartet respectively.
The Open category was also won by a string group, the genre crossing quartet Invoke, which is based on a violin-violin-viola-cello model but also swaps instruments out for mandolin and banjo, and performs a diverse repertoire incorporating American folk, jazz and minimalism.
First Prize in the Junior Strings category, worth $5,000, went to the Kairos String Quartet.
M-Prize is an international chamber arts competition based at the University of Michigan School of Music, Theatre & Dance in Ann Arbor. The competition is split into junior and senior Strings, Wind and Open categories, with an overall winner taking the grand prize.
The New York based Aizuri Quartet has previously won the Osaka International Chamber Music Competition in Japan and took third prize at the 2015 Wigmore Hall International String Quartet Competition – losing out then to the Van Kuijk Quartet, which made it as far as the semi finals at the M-Prize.