Graham Oppenheimer, senior chamber music tutor at Chetham's School of Music, shares some of his teaching strategies for school-age students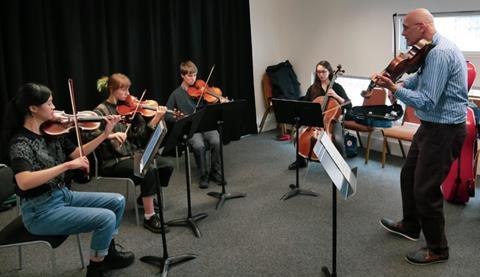 The following is an extract from an article on coaching school-age students in chamber music playing in The Strad's December 2020 issue. To read in full, click here to subscribe and login. The December 2020 digital magazine and print edition are on sale now.
As technical mastery emerges, so can creativity. This is achieved by using a nuts and bolts approach to understanding how to play in ensembles, including encouraging them to:
practise co-leading in order to inspire confidence
have one player 'pulsing' out the beat to help with rhythm
match bow strokes and articulation
tune chords (playing slightly slower, with a clear sound and less vibrato)
have the entire group using the right sound for the right moment
develop vital listening skills through a range of tactics
decide their role and balance their voice accordingly
develop concentration for an entire movement (sometimes not easy for younger students)
have a perspective on the dynamic range (being aware of where the loudest and quietest moments are)
I often tell the students that a string quartet is itself an 'instrument' that they must master, in the same way that their individual lessons give a technical grounding to their own playing. If as an ensemble they can do the same thing together at the same time, they cannot be wrong! Technique is, after all, simply the vehicle for musical expression.
The stronger sense of musicianship that comes out of this grounding encompasses a new series of skills and considerations:
the use of body language and 'moving as one'
developing a range of appropriate colours for different phrases
characterisation and communication (both with each other and with the audience)
making and experimenting with musical decisions (discussing the direction a phrase should take, for example)
establishing the emotional mood at a given point and how it can be brought out
learning to react to each other or a new musical idea; building in musical sentences with appropriate 'punctuation marks'
developing the idea of an overall interpretation
Students can then start to experience a deeper musical understanding and dialogue with each other, but ultimately they can have more fun!
This article was published in the December 2020 'Willemotte' Stradivari issue

The late-period violin's strong personality is the perfect match for its current owner Leonidas Kavakos. Explore all the articles in this issue. Explore all the articles in this issue

More from this issue…