The contest, which takes place every two years, was held according to strict Covid-19 guidance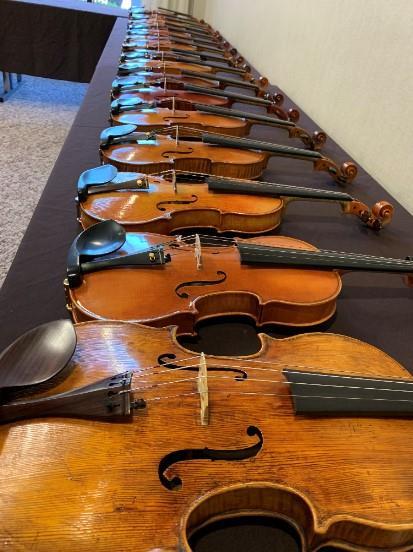 The Southern Violin Association (SVA) has announced the winners of its 2021 SVA Makers Competition. This was the third edition of the event, which took place in Atlanta, Georgia.
Mexican luthiers did particularly well at the competition, with Erik Iván Diaz-Garcia receiving the gold medal for violin workmanship and the highest score, allowing him to serve on the jury for the next competition in 2023. In addition, Pablo Alfaro (who co-wrote The Strad's article on Mexican lutherie in August 2020) received two golds, one silver and one bronze medal. J. Wesley Rule of Knoxville, Tennessee, won gold for violin tone and picked up the special Southern Maker Award, for the highest-scoring violin by a maker from the southern United States.
Owing to Covid restrictions, none of the luthiers were allowed into the judging hall, with only the judges themselves and competition staff granted access. In addition, only violins and violas were eligible for entry this year. This year's judges were Stephanie Voss, Jerry Pasewicz and Jaime Gonzalez (workmanship) and Olga Shpitko, Juan Ramírez and Jonathan Wright (tone). The full list of winners is below.
Violin Workmanship
Gold: Erik Iván Diaz-Garcia
Silver: Pablo Alfaro
Bronze: Felix Sandre Ochoa
Violin Tone
Gold: J. Wesley Rule
Silver: Henry Fisher
Bronze: Pablo Alfaro
Viola Workmanship
Gold: Pablo Alfaro
Silver: Liliana Holguín Barraza
Bronze: Ken Cousson
Read: From concept to sound: What judges look for in a violin making competition
Read: Do violin making competitions stifle originality in favour of perfection?
Read: Postcard from the China International Violin and Bow Making Competition
Viola Tone
Gold: Pablo Alfaro
Silver: Liliana Holguín Barraza
Bronze: David Chandler
Southern Maker Award
J. Wesley Rule
Novice Maker Award
Liliana Holguín Barraza
Highest Workmanship Score Violin or Viola – Next Competition Judge
Erik Iván Diaz-Garcia