With an array of experts in attendance, Beijing's international violin and bow making competition was an engrossing affair. Nancy Pellegrini hears a range of views on the industry, and China's growing position within it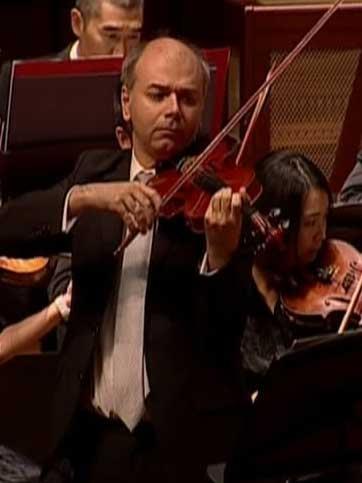 In the 1980s, as China was opening its doors to the rest of the planet, Zheng Quan and three other aspiring violin makers headed to Cremona for training. Only he returned. Back then, Chinese violin making was a different animal: Zheng remembers his Cremonese counterparts ordering violins, bows and cases from his home country. 'They would throw away the violins and bows and just keep the cases,' he recalls. 'It was cheaper than buying them in Europe.' Today, things are different. Chinese violins are stacking up gold medals at international competitions and earning widespread respect. To this end, Beijing has just held its second China International Violin Making and Bow Making Competition.

Running from 7 to 21 September, and this time adding bows, the competition has expanded greatly since its first outing in 2010. Officially sponsored by the Ministry of Culture, it boasted 18 international jurors this year, including such luminaries as Jean-Jacques Rampal, Hieronymus Köstler, Bernard Millant and Peter Oxley. Entries grew from 286 to 362, the exhibition was extended from a week to ten days, and there were twelve workshops, up from five in 2010.

Jurors examined the instruments in private, but the final 'playing' round was open to the public. Here, student musicians played scales, a cappella pieces and Romantic classics with a piano accompaniment, then took juror requests. 'If the judge isn't satisfied with the player's selection, they can demand a specific piece,' says Zheng. 'For example, Massenet's "Méditation" from Thaïs was often selected, because it clearly shows the violin's overall tone colour.' The chosen pieces were supposed to demonstrate the instruments' power, clarity, expressive tone changes and string balance. For bows, the criteria included stability, flexibility, tone control and playability.

For Zheng, the addition of bows was the highlight of this competition. 'Bow making is profound and mysterious, seemingly simple but with endless variation,' he says. 'The competition and exhibition will help people know about bows better, and this will attract more investment in this area of research and exploration.'

The jury's decisions were announced at Beijing's National Centre for Performing Arts on 11 September, with 12 winners sharing the 21 prizes between them. Then the musician judges played the winning instruments at a gala concert, accompanied by the China National Opera House Symphony Orchestra. The next day saw the opening of the exhibition, held in the NCPA's gallery. Blessed with ethereal lighting, it allowed visitors a close-up view of the winning instruments, although the display – possibly deliberately – did not clearly denote the winners' positions.

The exhibition also gave the makers a chance to meet and discuss their work with the jury. It kicked off with speeches from the jurors, some of which went beyond platitudes and offered valuable advice. While praising the overall level of quality, violin maker Rampal cautioned young luthiers not to neglect the finishing in their work. 'In the neck and bridge, there are some problems,' he said. 'These are very important details to consider for the future.' Bow maker Oxley's advice recalled his own competitive past. 'No matter what I achieved, my own entry should have been my best bow to date,' he says. 'Afterwards I would leave that bow on my bench, the point being that if I could do that level once I could do it every time. I encourage any maker to be self-critical – there is always something to strive for.'

Hua Tien-Reng, professor of violin making at the Shanghai Conservatory of Music, remarked that the overall quality of the instruments did not give away the makers' nationalities, which proved that 'China has many international-level makers'. Giovanni Angeleri (pictured) encouraged craftspeople to keep three words in mind: instrument, player, and composer. 'The instrument is in the hands of the player, who must deliver the composition,' he said. 'I encourage you to go deeper in your knowledge of music and of the great composers, to go to concerts and to speak to musicians. Then you will breathe some of the genius. Maybe you will receive some special magic, unable to be taught.' With true Chinese modesty, Zheng told the local makers, 'Our level is still far behind the highest international levels. We need to study more history and culture, and maybe that will be reflected in our work.'

The jury was asked whether there was such a thing as a Chinese style of making, or if luthiers aspired to add a Chinese imprint to a Western art form – as, for instance, in dance, drama or opera. Hua's answer was a resounding no. 'Violin makers all have one goal to shoot for: Cremonese instruments from the 17th and 18th centuries,' he said. 'They are the world standard. If makers pay attention to that, personal characteristics will come through. I don't think there's such a thing as a "Chinese violin".'

Oxley agreed that violin makers look to Cremona, but bow makers cast their eyes to France, particularly Tourte. Judging criteria included 'harmony', ensuring all the bow parts were faithful to the same style, and overall aesthetic, focusing on the frog and the head – the profile, the curve, the characteristics. But he cautioned makers to focus on the chamfer, or the ridge on the side of the head and throat. 'This is like the f-hole for the violin – this is where we see the maker's personality and ability to cut,' he said. 'Pernambuco is really hard wood, so you need an incredibly sharp knife and really good control. The great ones don't polish it – shiny and smooth, it loses character. You do this last, you've got a 90-degree angle, then you have to get your knife in, and that's why it's so hard. But it's an important part of the bow's character.' A lesson that China's bow makers will no doubt take to heart. And so, it's onwards and upwards to the 2016 competition.
Subscribe to The Strad or download our digital edition as part of a 30-day free trial.