The School of Violin Making's 'Hope' competition will see four violins and two guitars sold in aid of a charity providing refugees with tools to restart their trades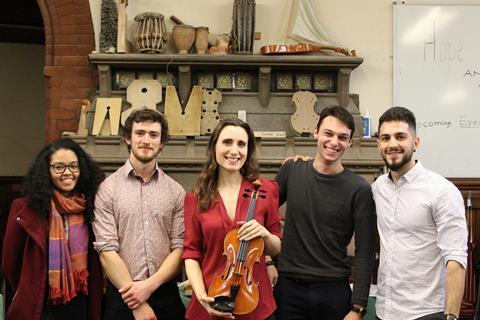 The instruments made by student teams as part of the Newark School of Violin Making's 'Hope' competition were judged by a panel including violinist Jennifer Pike, with the declared winner to be sold at auction.
The winning violin was made by Marios Pavlou (team leader), Anthony Ferguson, Sarah Pipala and Lucas Coquelet. It was varnished and set up by Pavlou.
'Although one instrument won over all, the final marks were nail bitingly close,' said John Wright, one of the organisers of the competition.
'Each one surpassed the expected requirements of a professional instrument with ease.'
The winning instrument will be sold by Tarisio in its March auction, and the remaining three will be sold for a £2,000 each – 'an absolute bargain for how the play and look', said Wright.
Gallery: The winning instrument
All proceeds will be donated to Anera, a charity working with refugees from Middle Eastern conflicts. It is creating a dedicated project providing tool kits to established and training tradespeople displaced by war, so they can resume or start their careers.
'The idea of being able to use our crafts to aid those in need was at the centre of the whole thing,' said Wright.
Jennifer Pike performed an excerpt from The Lark Ascending on each of the violins as part of the judging process (see video below).
The winning violin is Lot 153 in Tarisio's March auction, ending 18 Mar 2019 2:53pm GMT
Any interest in purchasing the violins can be directed to Marios Pavlou: mariosviolinist@gmail.com
More information about the competition is on this website: https://www.nsvmhope.com/