Phoenix Avalon from the US wins 1st prize in the senior category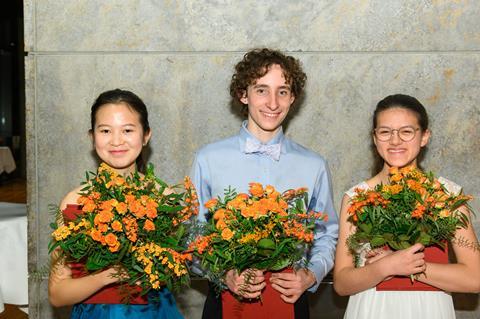 First prize winners (l-r) Haewon Lim, Phoenix Avalon and Maya Wichert. Credit: Maik Schuck
Phoenix Avalon, an 18-year-old violinist from Santa Fe, US, has won first prize in the senior category of the 9th International Louis Spohr Competition for Young Violinists at the Franz Liszt Weimar University of Music in Germany.
Avalon performed Mendelssohn's Violin Concerto in E minor the final round with the orchestra of the University of Music Franz Liszt Weimar, conducted by Nicolás Pasquet. He received a cash prize of 3,500 euros.
A former Cleveland Institute of Music Young Artist Program student with Jaime Laredo and Jan Sloman, Avalon currently studies with Itzhak Perlman on the Perlman Music Program. He plays a Guadagnini violin c.1786 on loan by Kenneth Warren and Son Ltd.
Read: Finalists named at Spohr Competition for Young Violinists
Second and third prizes in the same category went to 17-year-old Tassilo Probst from Munich, and 20-year-old Japanese violinist Taichi Miyamoto respectively.
First prize in the youngest category I (up to 14 years) was won by 13-year-old German Maya Wichert. The second prize went to the 13-year-old Swiss Raphael Nussbaumer, and third to 12-year-old violinist Fiona Khuong-Huu. The prize-winners in the middle category, for violinists aged 15 to 17 years, were 15-year-old South Korean Haewon Lim, who won first prize, and 15-year-old Belgian violinist Pauline van der Rest and 15-year-old Swiss Anatol Toth, placed second and third.
More information at www.hfm-weimar.de/spohr