Poland's Gidaszewska/Łaguniak Duo are awarded first prize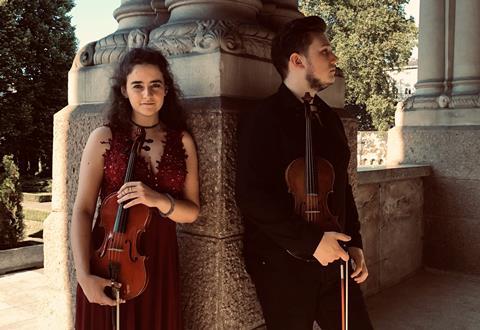 Violinists Marta Gidaszewska and Robert Łaguniak
First prize at the International Anton Rubinstein Competition for chamber music, which was held on 23 and 24 November in Düsseldorf, Germany, has been awarded to the Gidaszewska/Łaguniak Duo, comprising violinists Marta Gidaszewska and Robert Łaguniak. The duo formed in 2014 at the Poznań School of Music in Poland, and the musicians have since won many awards, most recently first prize and six special prizes at the International Polish Music Competition named after Stanisław Moniuszko in Rzeszów 2019.
Placed second was the Yugen Trio, consisting of violinist Mariko Nishikawa, cellist Juan Maria Raso Liaras and pianist, Mika Yamamoto. Third prize was shared by the Arlequin Quartet and the Stuttgart Duo. Special prizes went to the Colores Trio, Eos Quartet and Orloff Duo.
The International Anton Rubinstein Competition takes place annually at the Anton Rubinstein International Music Academy in Düsseldorf and has categories for violin, viola, cello, double bass, piano, voice, flute and chamber music.
On the competition's jury were Gabriele Leporatti, Thomas Weißschnur and Yury Bondarev.