The International Society of Bassists' virtual event took place on 7 and 8 June at the University of Nebraska-Lincoln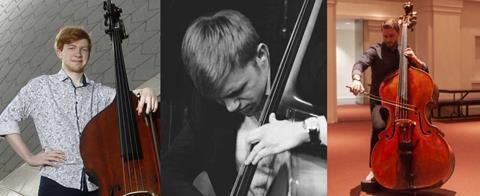 The International Society of Bassists has announced the winners of its biennial performance competition. Held at the University of Nebraska-Lincoln on 7-8 June, the event was divided into six divisions: solo; jazz; orchestra; ages 15-18; age 14 and under; and youth jazz, ages 15-18.
Winner of the solo division was Australian bassist Jason Henery. A student of Hal Robinson and Edgar Meyer at the Curtis Institute of Music, he began his bass studies with his father, Sydney Symphony co-principal bass Alex Henery, and continued at the Sydney Conservatorium of Music with Sydney Symphony co-principal bass Kees Boersma. He was principal bass of the Australian Youth Orchestra from 2017-19. Henery received $5,000 and an expenses-paid recital at the 2023 ISB convention.
Vincent Dupont of New Hampshire won the same prize in the jazz division. Dupont is a graduate of the jazz studies programme at William Paterson University. He has performed with Russell Malone, Lew Tabackin, Harold Mabern, Toshiko Akiyoshi and others. He has appeared at Washington DC's Blues Alley, Chicago's Jazz Showcase, and Scullers in Boston, and at the Mid-Atlantic Jazz Festival and the Staten Island Jazz Festival.
Peter Hatch won the orchesta division, which comes with an expenses-paid week with an ICSOM orchestra in its 2021-22 season. Hatch is studying for a masters at the Juilliard School, where he is a recipient of the Kovner Fellowship, in the studio of Harold Robinson and Rex Surany. He received his BMus at Rice University, where he received the Louis Sudler Prize in the Arts, studying with Tim Pitts. He is a substitute bass section member of the Metropolitan Opera Orchestra, Philadelphia Orchestra, Houston Symphony and San Antonio Symphony, and has attended the Verbier Festival, Wabass Institute and Domaine Forget.
Read: Shared prize at Bottesini Double Bass Competition
Watch: How to play The Marriage of Figaro on the double bass
Read: Artem Chirkov wins Bradetich solo double bass competition
In the youth categories, Nicholas Boettcher of Naperville, IL, took the $2,500 first prize in the 15-18 division. Andrew Vinther of Lynnwood, WA, won the youth jazz division and $1,000. The $500 prize for ages 14 and under was won by Joshua Thrush of Vienna, VA.
In the video below, Jason Henery gives the winning recital in the solo division.