The Kapoor-Leung Duo wins competition which took place in new Royal Birmingham Conservatoire concert hall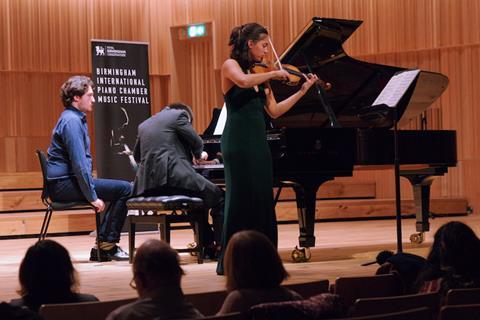 The first ever Birmingham International Piano Chamber Music Competition has been awarded to the Indian-American violinist Usha Kapoor and the American pianist Edward Leung, who performed works by Mozart, Adams and Saint-Saëns. They receive £4,000, a commercial recording with Resonus Classics and professional engagements at Wigmore Hall, Winchester Chamber Music Festival, Ulverston Festival, and Chamber Circle, Brussels.
Kapoor, 24, who is currently studying with violinist Mihaela Martin for her Masters at the Hochschule für Musik und Tanz Köln, made her solo debut aged 17 with the Phoenix Symphony and has subsequently performed with the Culver City Chamber Orchestra, the Culver City Symphony Orchestra, and the San Bernardino Symphony Orchestra, among others.
Leung, 23, who is studying for his Masters at the Royal Birmingham Conservatoire with Pascal Nemirovski, has performed in concert halls across North America, Europe, and Asia.
The competition, which was held as part of the inaugural Birmingham International Piano Chamber Music Festival, received 40 entries from 11 countries, with eight young ensembles eventually selected to participate and each giving a public recital, as well as taking part in masterclasses with leading artists. It took place in the new £57m Royal Birmingham Conservatoire, part of Birmingham City University, and the jury consisted of Resonus Classics founder Adam Binks, pianists Katya Apekisheva, Daniel Tong and John Thwaites, violinist Michael Gurevich, violist Robin Ireland, and cellists Alice Neary and Christoph Richter.