Hungarian ensemble Trio Silhouette takes home €5,000 and a prize package for its music and dance collaboration performance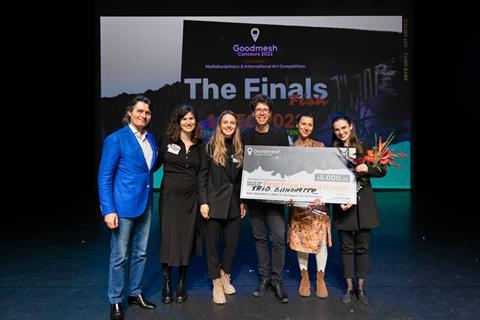 Read more news articles here
On 1 December 2022, five interdisciplinary ensemble finalists performed in front of the Goodmesh Concours jury and a live audience at Theater De Regentes, The Hague. The competition celebrates performance incorporating different art forms, including music, dance, acting, improvisation/soundscapes, electronics, artistic swimming, and visual arts, with the aim of representing the theme of the 2022 edition, 'FISH'.
Trio Silhouette from Hungary won first prize, with the judges commending its mixture of classical music, live dancing, lighting and visual art. The trio comprises pianist Róza Radnóti, cellist Mátyás Virág and dancer Rita Góbi.
'Our performance was based on classical music pieces without making any change in them,' commented Radnóti, following the trio's victory. 'Our goal was to make the audience feel the dramaturgy of our performance and the three amazing pieces by Kurtág and Janáček. We used simple, yet very sensitive tools to make our live performance, dance and video come to life.'
The trio receives a cash prize of €5,000, plus an artistic development package including international press exposure, representation with Goodmesh Management, live performance opportunities, artistic branding and guidance, as well as a professional photoshoot and video recording.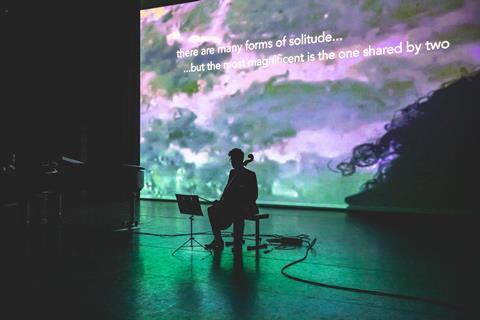 Second prize went to Ensemble Emergenz from Germany, as it combined musical soundscapes with artistic swimming, visuals and unique instruments, including a water piano and sub bass recorders. It receives €3,000, an artistic development package and a professional photoshoot and video recording
The audience award, which included €1,000 plus a professional photoshoot and video recording, went to Johannes Rydén & Simon Rydén from Sweden, who combined solo baroque cello with dance.
The jury comprised Rachel Xi Zhang, percussionist, Ph.D, Marimba One and Encore Mallets artist; Guido van Oorschot, music Journalist for De Volkskrant; Melchior Huurdeman, editor, TV and radio presenter; Anke Roder, visual artist; Floor van der Holst, PR & artist manager, and Jacques Goddijn, founder of Goodmesh.
2022 marked the third edition of the Goodmesh Concours, the first multidisciplinary art competition of its kind. The competition asks participants to combine music with another art form for an artistically driven and exploration without boundaries of uniting art forms based on one simple theme. The 2021 edition of the Goodmesh Concours was won by Dutch violinist Charlotte Spruit and French artist Jérémie Queyras.