The Arete Quartet from South Korea took first prize of €20,000 in the string quartet category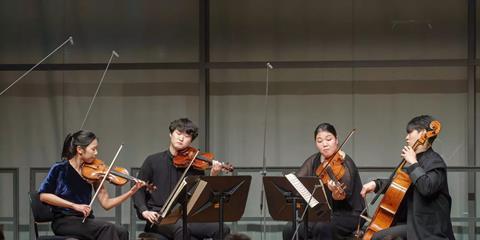 Read more news articles here
The winners of the 15th International Mozart Competition string quartet category were announced on 9 February 2023. The Arete Quartet took first prize following its performances of Mozart String Quartet KV 465 in C major, Janáček's String Quartet No. 1 'Kreutzer Sonata' and UTA-ORIweaving song for string quartet by Toshio Hosokawa.
The quartet won a cash prize of €20,000, donated by the City of Salzburg. In addition, the ensemble won the Mozarteum Foundation prize for best interpretation of a Mozart string quartet.
The Arete Quartet was formed in 2019 and won the 2021 Prague Spring International Music Competition. It won special prizes at the 12th Premio Paolo Borciani International String Quartet Competition and a scholarship from Jeunesses Musicales Germany. The quartet members are studying at the University of Music and Performing Arts Munich and are scholarship holders of Yehudi Menuhin Live Music Now. The Arete String Quartet studies with Christoph Poppen, Jaeyoung Kim of the Novus Quartet, Quatuor Ébène and Eberhard Feltz.
Second prize went to the Australian Affinity Quartet, who received €12,000 from Raiffeisenverband Salzburg, as well as the IGNM special prize, worth €1,000 for the best interpretation of a contemporary work - for the String Quartet No. 3 Hidden Agendas by Brett Dean. The Affinity Quartet's recent competition successes include third prize at the 2022 Wigmore Hall International String Quartet Competition, the 2022 McGill International String Quartet Academy Montreal, and the Young Talents Residency at the 2020 Amsterdam String Quartet Biennale. In 2023 the Affinity Quartet will study in Madrid with Günter Pichler at the Escuela Superior de Música Reina Sofía and perform at the ANAM Quartet House London, presented by the Australia/UK Season of Culture, the Royal Albert Hall and the Australian National Academy of Music.
The Eden Quartet was awarded the third prize of €8,000, donated by honorary senator Sylvia Madsack. The quartet reached the semifinals in the ARD Music Competition 2022, and from April 2023 the four musicians will continue their master's studies in chamber music at the Hanover University of Music, Drama and Media with Oliver Wille.
The Vienna-based Kandinsky Quartet received an invitation to Art, Research and Creation Opus 2023 (ARCO) as a special prize. ARCO is a binational academy for contemporary creation, a joint project of the University Mozarteum Salzburg, Gmem-Marseille, and the French ensembles Multilaterale, Les Métaboles and Tana Quartet.
The jury comprised Cibrán Sierra Vázquez (Vorsitz & Cuarteto Quiroga), Sarah Bitlloch (Elias Quartet), Erich Höbarth (Quatuor Mosaïques), Nina Lee (Brentano Quartet) and Teresa Schwamm-Biskamp (Armida Quartett).