More than 200 players will have the chance to play at the London venue over the next six weeks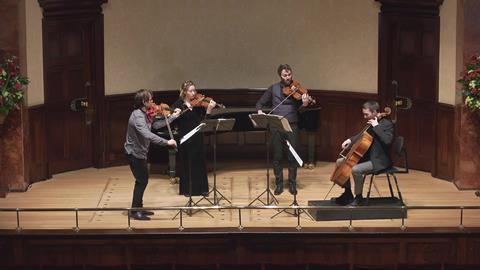 Jennifer Pike, Steven Isserlis, Timothy Ridout, Benjamin Baker and Veronika Eberle are the string soloists announced to appear in live-streamed concerts from Wigmore Hall over the next six weeks. The London venue has announced a programme of 40 live-streamed concerts, beginning on 22 February with a recital by the Doric Quartet.
'As the anniversary of UK's first national lockdown approaches, the livelihoods of most musicians remain hugely precarious,' said the hall's director John Gilhooly. 'Compounded by uncertainty over European travel in the next few months, it is more important than ever that Wigmore Hall plays a part in providing refuge for musicians in these impossibly challenging circumstances.' He also said that online donations to the hall were now approaching £1 million.
Read: Wigmore chief counts costs of live streaming
Read: Wigmore Hall Live Lunchtime Concerts broadcast across Europe
Read: Live music returns to Wigmore Hall
Each concert, lasting 60 to 90 minutes in length with no interval, will be performed behind closed doors with no audience present. As well as the above-mentioned soloists, there will be performances by the Carducci and Heath quartets, the Riot Ensemble, Fretwork, Gould Piano Trio, the English Concert, Apartment House, 12 Ensemble, Nash Ensemble, London Handel Players, Arcangelo, the Kaleidoscope Chamber Collective and La Serenissima. The full programme can be viewed here.
In January Gilhooly revealed to the Financial Times that he felt live-streaming was unlikely to be a long-term solution to the lack of venues during the Covid era: 'Apart from the deluded, no one can say streaming concerts pays,' he said.