Among the performers at the London venue in the lead up to Christmas are the Doric String Quartet and violinist Jack Liebeck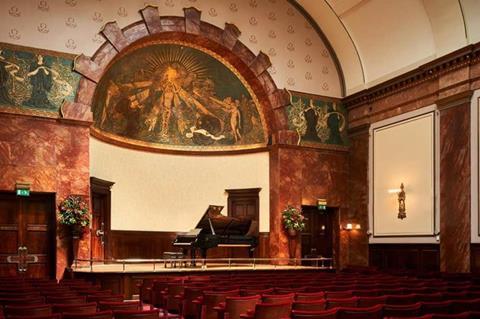 London's Wigmore Hall is to reopen to the public from Monday 7 December.
Before the end of 2020, Wigmore Hall will present nine concerts, each lasting approximately 60–90 minutes in length with no interval – all open to live audiences as the auditorium capacity is reduced to 150. All nine concerts will also be lived streamed on high-definition video on Wigmore Hall's website.
Among the performers are the Doric String Quartet (Monday 7th), violinist Jack Liebeck and pianist Katya Apekisheva (Monday 14th), pianist Mitsuko Uchida (Wednesday 16th) and three choirs - Tenebrae, Stile Antico and The Cardinall's Music.
Read: Wigmore Hall Live Lunchtime Concerts broadcast across Europe

Read: Live music returns to Wigmore Hall
Read: Southbank Centre and Wigmore Hall are amongst several venues to close doors
Wigmore Hall director John Gilhooly said: 'At the end of this tumultuous year, we are pleased to be able to bring choirs back to Wigmore Hall for three raptly beautiful Christmas programmes. News of the vaccine has brought renewed hope for 2021, and it is with this cautious optimism that Wigmore Hall will continue to support musicians in the challenging winter months ahead.'