Louis Levitt, a member of Sybarite5, has reported damage to his instrument following a United Airlines flight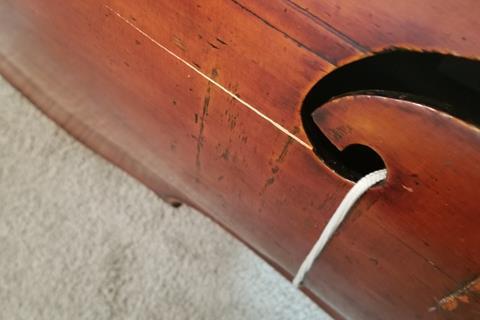 Louis Levitt, a US double bassist and member of chamber ensemble Syrabite5, has reported damage to his instrument, following a United Airlines flight.
The double bassist had been travelling with his opera singer wife Blythe Gaissert, and their two children, when he boarded the flight from Newark New Jersey, to San Diego, in California, last Friday evening. 'I brought the bass with me because I needed to then go to a concert with Sybarite5 in Arizona,' He says. 'I fly a lot with the bass, (50,000-90,000miles per year on United) So I'm very familiar with United, and many airports especially EWR and LGA.'
When he arrived, last Friday, to check over the bass more than an hour in advance, United instructed him to take it for hand screening. 'Again, I'm used to this. I've probably been to this part of the TSA 100 times over the past 10 years, but this was the first time they asked me to take it alone, usually United requires a united rep or baggage handler to come with me.'
Nevertheless, Levitt, followed the instructions, and, upon arriving at the screening area, 'explained that I needed to present for the screening to make sure that the bass was packed correctly and not damaged. This person told me that wouldn't be necessary because they wouldn't need to open it. However, he promised me that if they did need to open it they would definitely come and get me, so not to worry.'
According to Levitt, his flight was then delayed due to mechanical failures with the airplane door, forcing all passengers to disembark. He and his children rebooked onto a flight the next day to avoid a 3 am arrival, but his bass and their luggage went ahead without them. 'I think this is pretty normal,' says Levitt, 'But what I then found out was that my flight never went to San Diego; it was diverted to Los Angeles because of an airport curfew in San Diego. Everyone on that flight landed in LAX and had to then take a bus to San Diego. Which is a couple of hours away. I presume the same was done to my bass and my luggage.'
When he finally reached his destination the next afternoon, and was reunited with his instrument, he discovered that the case had been opened and repacked after all. 'I could tell right away because the area of the soft case that protects the neck block inside had been incorrectly folded directly on top of the bass right on top of the treble side f-hole. The bass is in a professional grade soft case inside made by Mooradian cases, which is inside of the hard case to provide further protection.'
On examining the double bass, he could see that the top of the instrument had suffered a 4-inch crack.
'I asked my trusted luthiers Robertson & Sons violins in Albuquerque New Mexico if I could string it up and play and concert. They said definitely not, as the tension on the top from the strings would cause the crack to grow longer and worsen…Unfortunately, this is not a super quick simple repair. The entire top of the bass must be removed and the crack must be repaired with wooden cleats on the underside and then the top must be reattached. This will probably take a week, cost thousands of dollars, and the sound may change.'
Levitt took the bass back to the airport and had it shipped to Robertson's for repair via air cargo. He is now borrowing a bass from Philip Alejo, professor of bass at the University of Arizona, for the Sybarite5 Concert.
According to Levitt, the double bass is by an unnamed maker but is believed to be English or American, with a label on the inside that faintly shows 1887. It is valued at over $100,000 and has been used for performances on American concert hall stages including Carnegie Hall, Lincoln Center and the Library of Congress.
'TSA has replied to me on Twitter with at claims form,' says Levitt, 'But United has been silent. I will be filing claims with TSA and United, and my insurance, But as you know that it's not just about the money, it's about preserving the instruments and history for future generations, and keeping the music alive.'