The Paris-born musician was also a respected tutor at conservatoires in Lyon and Bordeaux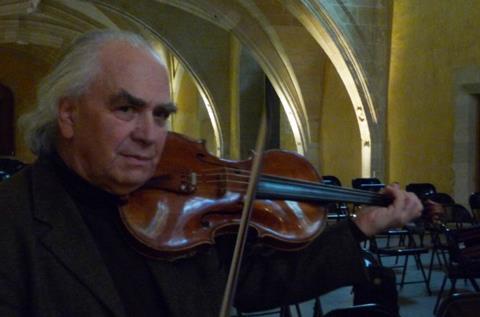 The violist and tutor Tasso Adamopoulos died on 3 January as a result of contracting Covid-19. He was 76. Among his students were Mathieu Herzog, Aurérelie Deschamps, Pierre Vallet, Alain Celo, Françoise Renard and Chara Sira among many others.
Born in Paris in June 1944, Adamopoulos first studied with Henry Rotenberg at the Rubin Conservatory of Music in Haifa, Israel, then with Ödön Pártos at the Tel Aviv Academy of Music. He received a scholarship from the Norman Foundation and was noticed by Isaac Stern and Leonard Bernstein. On his return to Europe he studied with Erwin Schiffer in the Netherlands and became viola soloist in the Rotterdam Philharmonic Orchestra. He then moved to France where he gained the same role at the Orchestre National de France under Lorin Maazel. He joined the Orchestre National Bordeaux Aquitaine in 1990.
Regularly playing as soloist with the Orchestre Philharmonique de Radio France, Philharmonic Orchestra Rotterdam, RTL Luxembourg, Paris Orchestra Ensemble and the Bordeaux-Aquitaine National Orchestra, Tasso Adamopoulos taught at the Conservatoire de Lyon, gave masterclasses around the world and formed the Bordeaux Quartet together with Stéphane Rougier, Cécile Rouvière and Etienne Péclard.
Read: Violist Gustav Clarkson has died
Read: Turkish viola player Ruşen Güneş has died
Read: Metropolitan Opera Orchestra violist dies of coronavirus
A sought-after chamber musician, Adamopoulos was part of the Sartory Trio with violinist Roland Daugareil and cellist Étienne Péclard. He also played alongside the Talich, Hagen and Lindsay quartets. In addition to his concert activity, Adamopoulos taught at the Conservatoire national supérieur de musique et de danse de Lyon and the Conservatoire de Bordeaux Jacques Thibaud, where he was responsible for the viola class. He played a 1755 viola made by Carlo Ferdinando Landolfi.
Video: Tasso Adamopoulos performs Bach's Chaconne, arranged for four violas, with Elçim Ozdemir, Stéphane Rougier and Nicolas Mouret