The ensemble has also announced the appointment of violinist Emily Sun as artist-in-association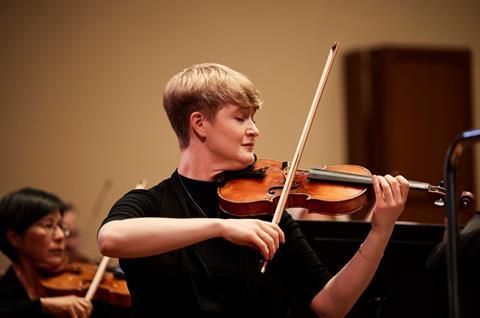 Read more news articles here
The Adelaide Symphony Orchestra (ASO) has appointed violinist Kate Suthers as its new concertmaster. The Sydney-born musician, who studied with György Pauk at London's Royal Academy of Music, will take up the role this month. She has previously worked in ensembles including the Royal Philharmonic Orchestra and City of Birmingham Symphony Orchestra, and has performed with English National Opera, the Scottish Ensemble, Aurora Orchestra and the Hallé Orchestra. Composers she has worked with include Peter Maxwell Davies, Anna Meredith, Jörg Widmann, Jonny Greenwood and James MacMillan. She performs on a c.1920 violin made by Carlo Carletti, from Pieve di Cento, Bologna, Italy.
The ASO has also announced that Emily Sun is to be its artist-in-association for the 2022–23 season. Also born in Sydney, Sun will perform three concerts as part of her residency, including the world premiere of Elena Kats-Chernin's Violin Concerto, written for her and commissioned by the ASO. There will also be a recital including the Australian premiere of Fazil Say's Violin Sonata No.2 'Kaz Dağları' (Mount Ida).
'To collaborate so closely with the world-class musicians of the ASO throughout the year, and to share our music and performances with the warm and generous audiences in Adelaide is an incredible privilege,' said Sun. 'I am particularly excited and passionate to share the world premiere of Elena Kats-Chernin's Violin Concerto. It will no doubt become a significant work in the violin repertory.'
Sun plays a 1760 violin made by Nicolò Gagliano in Naples, Italy. The instrument will be featured in The Strad Calendar 2023, now available for pre-order.