A founding member of the Australian Chamber Orchestra and teacher of numerous eminent violinists, including Richard Tognetti, Alice Waten died last week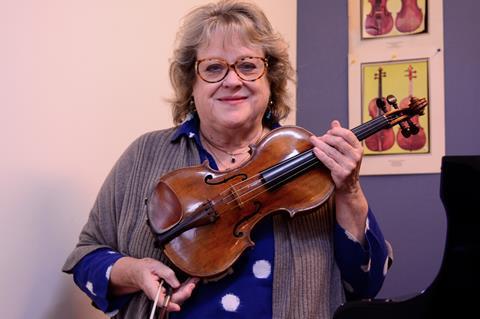 Australian violin pedagogue Alice Waten has died. Waten was known for her prominent teaching roles in Australia and prolific students, who went on to take up positions as soloists, orchestra leaders, chamber musicians and teachers worldwide.
'Alice was one of Australia's great violin teachers and the evidence can be seen in orchestras and colleges not just in Australia but around the world. She has been a cornerstone of the Open Academy's Rising Stars programme and her knowledge and wisdom will be sorely missed. Our best wishes go out to all her family and friends,' stated the Sydney Conservatorium of Music's community programme, the Open Academy at the Con, on social media.
Waten graduated from the Moscow Conservatoire, where she studied with Valery Klimov and David Oistrakh, and chamber music with the Borodin Quartet. Prior to studying in Moscow, she studied with Eberhard Feltz at the Hochschule fur Musik, Berlin.
She was a founding member of the Australian Chamber Orchestra, holding principal positions for ten years and toured extensively throughout UK, Europe, Asia and Australasia. She performed on a Paolo Antonio Testore 1743 violin.
Waten most recently held the position of associate professor at Sydney Conservatorium of Music. In an interview with The Strad in 2013, on the topic of what she sought in prospective students, she said, 'talent and aptitude, but also dedication and an open mind.'
She previously held teaching positions at the Australian National Academy of Music (ANAM), Melbourne, Australian Institute of Music, Sydney, Hong Kong Academy for Performing Arts and Chetham's Specialist Music School, Manchester, UK.
She served at a guest lecturer in violin at many institutes, including the Menuhin School and Canberra School of Music, ANU. Waten gave masterclasses in China, Hong Kong, Malaysia, Thailand, Indonesia and Korea; California (USA), as well as throughout Australia. She also served as a jury member at both national and international competitions.
Waten counted many high-achieving violinists and violists as her former students, including Australian Chamber Orchestra artistic director Richard Tognetti. '[She] was my anchor. She instilled in me a sense of Soviet-style discipline whilst affording me space to unleash a new frontier's imagination,' said Tognetti in an interview with the Sydney Morning Herald in 2015.
Waten also taught Goldner Quartet violinist Dimity Hall, Sydney Symphony Orchestra associate concertmasters Kirsten Williams and Sun Yi; and co-principal second violinists Marina Marsden and Kirsty Hilton, Melbourne Symphony Orchestra associate concertmaster Sophie Rowell, as well as Dr. Robin Wilson, who serves on the violin faculty at ANAM and teaches young violin prodigy Christian Li.