Natsuko Yoshimoto leaves concertmaster position at Adelaide Symphony Orchestra to take up her new role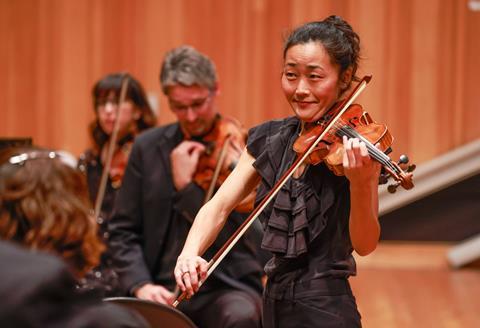 Violinist Natsuko Yoshimoto joins the Queensland Symphony Orchestra as co-concertmaster. She will sit to sit alongside Warwick Adeney who has been concertmaster since 2001.
Yoshimoto was previously concertmaster of the Adelaide Symphony Orchestra for twelve years until her departure at the end of 2020. Currently a member of Ensemble Q, she has previously been leader of the Australian String Quartet and the Grainger Quartet, and has been a guest concertmaster for orchestras around the world, including the Orchestra of the Royal Opera House. As a soloist, she has appeared with many orchestras including the London Symphony Orchestra, the Philharmonia, Halle Orchestra, Odense Symphony, Tokyo Symphony Orchestra, Tokyo Philharmonic, Orchestra Ensemble Kanazawa, Hong Kong Sinfonietta and Melbourne Symphony Orchestra.
Yoshimoto has been guest-leading QSO throughout 2021 and is a staff member at the Queensland Conservatorium of Music.
She plays a Giovanni Battista Guadagnini violin on loan from the South Australia Guadagnini Violin Trust and UKARIA.
Read: New violist for Australian String Quartet
Read: 'A complete workout for the bow' - violist Patricia Pollett's study of choice
Read: Rimma Benyumova appointed concertmaster of Staatskapelle Berlin