The Russian–Israeli musician spent most of his career in America, where he had a wide-ranging career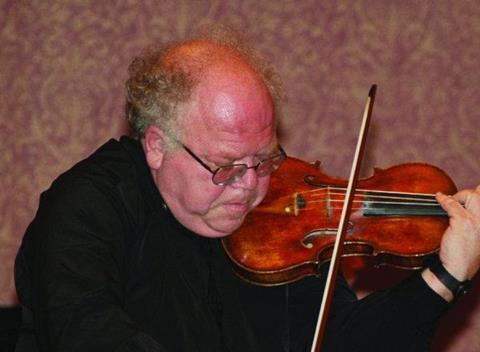 Russian–Israeli violinist and conductor Yuval Waldman died on 1 February at the age of 74. An enterprising musician, tutor and co-founder of numerous festivals, he was noted for rediscovering neglected works, often composed under oppressive circumstances. In 2004 he founded Music Bridges International, which promoted concerts and educational programmes including music from different cultures. He also performed and conducted programmes such as 'Music of Oppression and Liberation', featuring composers persecuted for their beliefs, and 'Music Forgotten and Remembered', featuring works by Eastern European Jews.
Born Vladimir Waldman in 1946 in Ukraine, then part of the Soviet Union, Waldman began playing the violin at the age of four, and performed on Soviet National Radio aged seven. His family emigrated to Israel, via Poland, Austria and Italy, in 1957. He changed his name to Yuval in honour of the Biblical forefather of musicians. In 1961 he graduated from Tel Aviv's Samuel Rubin Israel Academy of Music (now the Buchmann-Mehta School of Music), and received a scholarship to study at the Conservatoire de Musique de Genève in Switzerland. He was noticed by Isaac Stern, who arranged for him to study with Josef Gingold at Indiana University.
Read: Russian cellist Alexander Buzlov dies aged 37
Read: LSO concertmaster John Georgiadis dies aged 81
Read: Violinist Georg Mönch dies aged 84
Waldman returned to Israel in the early 1970s but soon came back to America where he spent the rest of his life. He served as concertmaster with orchestras including the Kansas City Symphony, Greater Bridgeport Symphony and Brooklyn Philharmonic, and conducted the New American Chamber Orchestra, an ensemble made up of Jewish émigrés from the former Soviet Union. He was also first violinist of the Kinor Quartet, and a professor at the State University of New York (SUNY) at Purchase, where he eventually became dean of the strings department. He also gave private lessons and taught on school music education programmes. Festivals he helped to found included the Madeira Bach Festival, Opus Berkshire Festival and the Benedictine Millennium Festival. In Votkinsk, Russia he helped start the Young Artists Strings Competition.