The Czech musician, who spent most of his career in Italy, was noted for his interpretation of modern works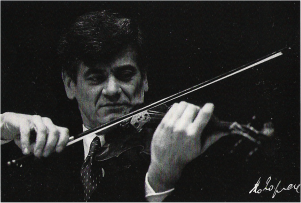 The violinist Georg Mönch died on 30 January at the age of 84. Born in Prague, he spent most of his career in Italy, where he was noted for his interpretations of work by modern composers. Elliott Carter and Aldo Clementi were among those who rote pieces for him, and in 1980 he made the first recording of Salvatore Sciarrino's Sei Caprici.
Born in 1936 to Russian parents, Mönch began his violin training in Paraguay and Argentina. He made his debut in Buenos Aires, with conductor Juan José Castro, and then moved to Italy where he studied with Remy Prìncipe. He also spent time in France, where he continued his studies with Henryk Szeryng. As a soloist, Mönch performed with conductors including Bruno Maderna (with whom he made his Italian debut), Lukas Foss, Milan Horvath, Richard Dufallo, Marcello Panni, Michael Gielen and Stefan Reck. He performed at such festivals as the Maggio Musicale Fiorentino, Venice Biennale , Berliner Festwochen, and Holland Festival, and the Teatro alla Scala, the Accademia di Santa Cecilia and the various RAI offices. He also recorded the complete violin and piano works of Béla Bartók with pianist Massimiliano Damerini, on the Etcetera label.
Among Mönch's most notable concerts was a performance dedicated to the work of Luigi Nono at Milan's Teatro alla Scala. He also performed at the Teatro Colòn in Buenos Aires and Rome's Accademia of Santa Cecilia. He was also a sought-after violin teacher. He played a violin made in 1739 by Guarneri 'del Gesù'.
Read: I Musici cellist Francesco Strano has died
Read: Italian violinist Angelo Stefanato has died aged 88
Read: Violinist, teacher and writer Enzo Porta has died