£25 million will be given to schools to purchase musical instruments, plus the Music Hubs programme will enjoy a £79 million investment until 2025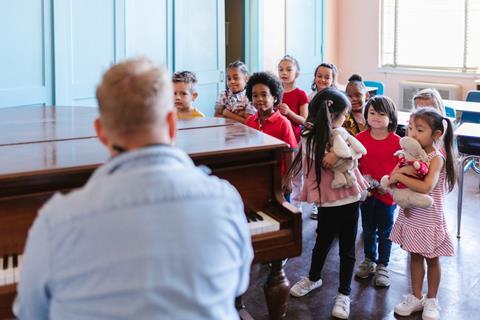 The UK Government announced on 25 June plans to invest in new music and sport opportunities to better support children's development.
Under the new National Plan for Music Education, UK schools will be asked to teach at least one hour of music curriculum per week in key stages 1-3. Recognising the music is used to support children's creativity and develop their cognitive skills, a £79 million investment will also be made available every year until 2025 for the Music Hubs programme.
Tens of thousands of pupils will also be given the chance to learn a musical instrument, following new capital funding worth £25 million for schools to purchase musical instruments and equipment. This will include adapted instruments for pupils with special educational needs and disabilities (SEND).
Every school will be expected to have a designated music lead or head of department. Additional initiatives in the National Plan for Music Education include further development of instrument and music teaching, a pilot to improve music progression in disadvantaged areas and the roll-out of an inclusion strategy in every music hub area so that all children and young people can benefit from high quality music education.
Education secretary, Nadhim Zahawi said, 'I want every child to have the opportunity to develop a love of music and sport, so they can explore their passions and fulfil their potential. That's why I'm thrilled that we're updating our National Plan for Music Education, as well as providing students with around 200,000 new musical instruments.'
Chief executive of UK Music, Jamie Njoku-Goodwin said, 'Music is a national asset that contributes billions to the economy, improves our health and wellbeing and boosts our global reputation – and that all relies on a strong talent pipeline. A thorough musical education also brings huge benefits to children, whatever they go on to do in later life, and it is in our national interest to have a musically literate society.
'The new National Plan for Music Education, and commitment of capital investment is very welcome. Music can transform lives – so it is vital that music education does not become the preserve of a privileged few and is available to everyone, regardless of their background. Continued investment in music education is vital if we want to unlock the huge creative potential of young people and level up opportunities across the country.'