A violinist, flautist, trumpeter and percussionist will receive tailored mentoring and performance opportunities with the Royal Liverpool Philharmonic Orchestra for the 2022/23 season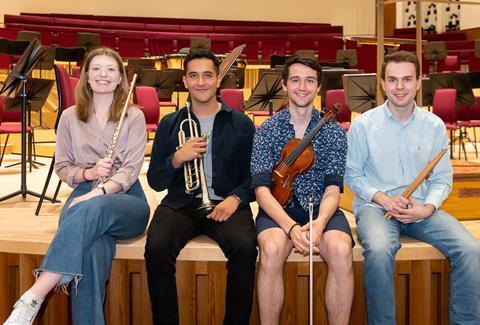 Liverpool Philharmonic has announced the appointment of four musicians who have been selected for the first annual Royal Liverpool Philharmonic Orchestra Emerging Musicians Fellowship.
The four musicians appointed as fellows for the 2022/23 season are:
Angus Bain - Violin
Rachael Watson - Flute
Cameron Chin-See - Trumpet
Matthew Brett – Percussion & Timpani
'I applied for the Royal Liverpool Philharmonic Orchestra Fellowship in order to work with and get to know a group of excellent professional musicians whilst honing my playing in orchestral, chamber and audition environments,' said violinist Bain. 'I am also really looking forward to getting involved with the various educational projects on offer, learning more about the organisational side of the orchestra, and exploring the benefits of the performance and wellbeing programme.'
Earlier this year, Liverpool Philharmonic received over 350 applications from musicians at the beginning of their orchestral careers. The fellowship, which has no upper age limit, offers musicians a unique, immersive professional orchestral experience, both on and off the stage over the course of a year. The fellowship is the first paid opportunity of its kind in the North of England.
Fellows will each be mentored by a member of their section within the orchestra and will rehearse and perform with the orchestra as part of the regular season programme. They will perform in concerts conducted by Royal Liverpool Philharmonic Orchestra chief conductor Domingo Hindoyan, with Bain and Chin-See also set to perform in a concert conducted by conductor laureate Vasily Petrenko.
Fellows will participate in a tailor-made training package, which will include instrument lessons and developmental sessions, as well as sessions focused on an orchestral career.
The Liverpool Philharmonic Musicians Performance and Wellbeing Programme, including physiotherapy, sports massage, injury prevention screening, audiology, and performance psychology, will be fully accessible to the fellows. Fellows will gain practical experience within Liverpool Philharmonic's extensive Learning and Participation programme, and build knowledge in various areas of the organisation, such as the music library, marketing, programming and fundraising departments.