The new fellowship seeks musicians from traditionally under-represented groups to undergo orchestral training and mentorship for up to three years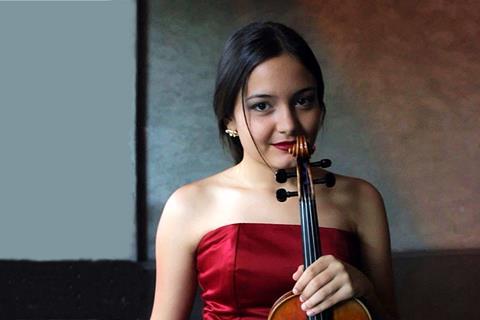 The Chicago Symphony Orchestra Association has announced violinist Gabriela Lara as the first winner of the Chicago Symphony Orchestra (CSO) Fellowship. She will assume her post when the CSO's 2022-23 season starts in September.
Developed with input from music director Riccardo Muti, the CSO Members' Committee and Chicago Federation of Musicians, the new fellowship programme seeks musicians from traditionally under-represented groups in American symphony orchestras, including, but not limited to, Black, Latino or Indigenous individuals.
As a CSO Fellow, Lara will rehearse and perform with the CSO, work with conductors and receive training and mentorship from CSO musicians for up to three years. Lara will be paid to perform in at least 20 subscription weeks with the CSO, along with receiving financial support to attend auditions, and participate in up to 10, one-hour private lessons annually with a CSO musician. The programme aims to prepare fellows to win auditions for US orchestra posts.
Lara is a 2022 graduate with a bachelor of music degree in violin performance from the Chicago College of Performing Arts at Roosevelt University, as a student of Almita Vamos. Lara also received a 2022 Project Inclusion Fellowship from the Grant Park Orchestra.
Lara began her violin studies in her native Venezuela at the age of eight and later became a member of the Latin American Violin Academy, where she was a student of José Francisco del Castillo and Francisco Díaz.
An alumna of Venezuela's El Sistema music education program, she served as a concertmaster of the National Youth Orchestra of Venezuela in 2017, and performed with Gustavo Dudamel and the Simón Bolívar Symphony Orchestra as part of a 2016 European tour. Lara also was a second-place winner in the 2021 Sphinx Solo Competition and won the 2021 Frank Preuss International Violin Competition.