The Czech piano trio performed a programme of Brahms and Lizst to secure the top prize at Saturday's finals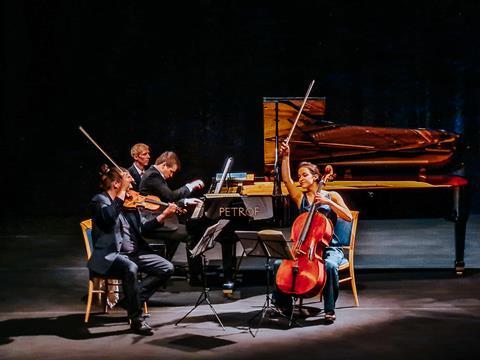 Czech ensemble Trio Bohémo have won the 2021 Parkhouse Award, the finals of which were held on Saturday 9 October at Wigmore Hall.
Comprised of violinist Matouš Pěruška, cellist Kristina Vocetková and pianist Jan Vojtek, the ensemble performed their winning programme of Brahms Piano Trio in C minor op.101 no.3 and Liszt Carneval de Pest (Hungarian Rhapsody No. 12), beating fellow finalists The Soleri Trio (Germany), Duo Jalef (France) and the Heathcliff Trio (Denmark/UK) to the top prize.
Trio Bohémo will enjoy three UK concerts as part of their main prize, including performances at Wigmore Hall in London and Stoller Hall in Manchester. The Solieri Trio were awarded the Highly Commended prize, decided by the finals jury of Emma Bloxham, Tim Hugh, Madeleine Mitchell and Ronan O'Hora, with Parkhouse Award chairman Chris de Souza.
Founded in 2019, Trio Bohémo won 2nd prize at the Gianni Bergamo Award in Lugano, subsequently joining the Le Dimore del Quartetto network. Since 2020 they have been members of the European Chamber Music Academy, studying with Hatto Beye, Dirk Mommertz, Johannes Meissl, Avedis Kouyoumdjian, Patrick Jűdt and Mezö Péter. Recently, the trio won 1st prize at the International Johannes Brahms Competition in September 2021.
Read: Merz Trio win 2021 Naumburg Chamber Music Competition
Read: Maria Ioudenitch wins 2021 Joseph Joachim International Violin Competition
Read: New Zealand cellist Matthias Balzat wins ROSL strings prize