The US-violinist scooped the top prize of €30,000, as well as a host of other awards and future concert engagements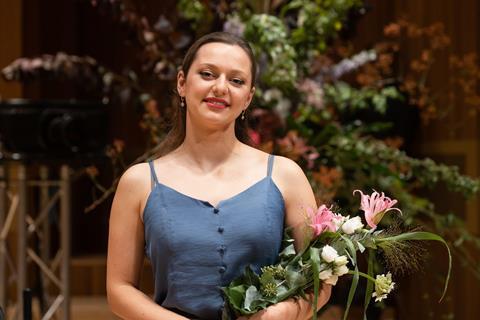 US-violinist Maria Ioudenitch has won the main prize at the 11th Joseph Joachim International Violin Competition, the final round of which was held in Hannover on 10 October. She was awarded €30,000 following her finale performance of Brahms Violin Concerto with the NDR Radiophilharmonie under the baton of Andrew Manze, as well as the commissioned work Im Garten zu spielen by Manfred Trojahn.
Violinists Chiara Sannicandro, Javier Comesaña and Minami Yoshida also took part in the final round. Further prizes were awarded to all four finalists, with each laureate receiving €10,000. Ioudenitch additionally won prizes for Best Interpretation of the Commissioned Work (€ 5000), the Chamber Music Award (€3000), a recording and distribution deal with Warner Classics, music from G. Henle Verlag as well as multiple future concert engagements.
Spanish violinist Javier Comesaña was awarded a three-year loan of a 1765 Giovanni Battista Guadagnini violin by Fritz Behrens Stiftung. German violinist Chiara Sannicandro was awarded the Audience prize of €2000.
The jury consisted of Carolin Widmann, Ana Chumachenco, Suyoen Kim, Christine Schäfer, Zohrab Tadevosyan, Ulf Wallin, Donald Weilerstein, Robert Levin, Eleonore Büning and Andrew Manze
Ioudenitch's victory follows her recent success at the Tibor Varga International Violin Competition, which she won in September 2021. She studied at the International Center for Music at Park University, in Kansas City with Ben Sayevich, the Curtis Institute of Music with Pamela Frank and Shmuel Ashkenasi and the New England Conservatory with Miriam Fried. Previous prizewinners of the Joseph Joachim competition include Timothy Chooi, Nemanja Radulovic, Sergey Dogadin, Fumiaki Miura, Dani Kim and Alexandra Conunova.
Read: Maria Ioudenitch wins Tibor Varga International Violin Competition 2021
Read: Timothy Chooi wins 2018 Joseph Joachim Violin Competition