Our September Suzuki special explores the worldwide success of the eminent teaching method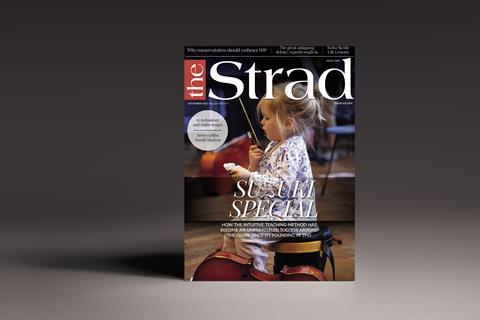 Suzuki Teaching: Since its creation in the mid-20th century, the method has become one of the most successful ways of teaching children. Samara Ginsberg investigates why
The Suzuki Approach To Tone: Helen Brunner recalls her time with Shinichi Suzuki in the 1960s, and reeals how he showed both students and tutors the basics of achieving a good tone
Historically Informed Performance: From bowing to rhythm, students of early and Baroque music need to take a holistic approach, says Walter Reiter with the help of examples and exercises
Antiquing: It takes skill and patience to make a new violin look 300 years old - but should luthiers be doing it at all? Peter Somerford examines both sides of the question
Session Report: Cellist Christian-Pierre La Marca tells Tom Stewart how his latest recording project is designed to highligh the environmental challenges facing humanity
Violin Making And AI: It is now possible to simulate the tone quality of an instrument before it's even made. Sebastian Gonzalez explains how this could be beneficial for luthiers
Daniil Shafran: One of the 20th-century's most distinctive musicians, the Russian cellist never enjoyed widespread success. Oskar Falta gives a reappraisal of his career
Viola Sizes: Unlike violins, violas have a huge number of differences in shape and size. William Castle gives a guide for players to find the one that's right for them
In our regular sections:
Cellist Natalie Clein guides us on the first movement of Haydn's Cello Concerto no.2 in this month's Masterclass, while violinist Edward Kreitman gives some tips on Suzuki teaching technique in Technique. This issue's Sentimental Work,chosen by cellist Matt Haimovitz, is Ligeti's Sonata for Solo Cello, while Latvian violinist Baiba Skride shares her memories and opinions in Life Lessons. This month's Opinion features Naomi Yandell on why humour can be a useful teaching tool, especially online.
Yuri Pochekin takes an In Focus look at a violin by Russian luthier Anatoly Ivanovich Leman and My Space features Barcelona-based luthier Jordi Pinto. Pablo Alfaro shares how to create varnish crackle effects in Trade Secrets, while Kai Köpp asks if most of the gut strings used in historically informed performance are historically inaccurate themselves in Making Matters.
We also bring you news of the latest products and auctions, plus our regular analysis and opinion columns, and comprehensive reviews of concerts, CDs and books. Simply go to the current issue to explore the full content listing.
Plus, in your digital edition:
View more photos from this season's London auctions, including a handsome cello by Johann Josef Stadlmann and a Vuillaume built on a Stradivari model
Natalie Clein gives a Masterclass on Haydn, with audio clips from her recent recording of the composer's Cello Concertos
More from the latest exhibition by artist Leonardo Frigo, of violins decorated with motifs from Dante's Inferno
Session Report: listen to clips from Christian-Pierre La Marca's latest CD, with an extra gallery of images
My Space: more from the Barcelona workshop of luthier Jordi Pinto, one of the oldest in Europe
And of course, clips from the three recordings granted the sought-after epithet 'The Strad Recommends'
The digital magazine and print edition are on sale now, or subscribe to access the entire magazine online here.